Roadrunners lead effort to bring Rowdy Cannon to UTSA events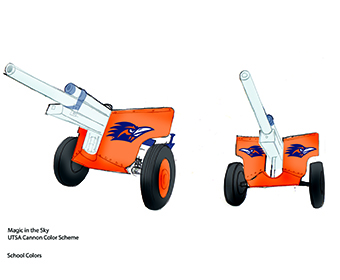 Brett Davidoff, senior entrepreneurship major and an active member of the UTSA Student Government Association, is leading the charge to bring a loud, proud Rowdy Cannon to Roadrunner Nation. Hear why in his own words.
(April 28, 2017) -- The cannon will be used at UTSA home football games and other university events. Our university resides in San Antonio, which we all know to be Military City USA. In honor of that, we want to inaugurate our very own Rowdy Cannon. Operated by Army ROTC Cadets, it will be fired from the sidelines every time we score a touchdown or a field goal. Additionally, it can be fired at other official university events such as Fiesta UTSA and Midnight Light.
It takes all of us in order to turn this vision into a reality. A donation to the Rowdy Cannon will be an investment in a prominent, long-lasting tradition for the UTSA community. We believe having a cannon will further establish our place in Division I football. It will also enhance the UTSA Football experience, further claiming our place as a top-tier university.
The money raised in this campaign will go to the construction of the cannon, a custom-built trailer and the costs of firing the cannon. Funding requirements come in at $20,000. The funds will come from crowdfunding.
For the past year and a half, Student Government leaders have been working to make this happen. We now need all hands on deck - current Roadrunners, alumni, friends and family - to promote and fundraise for this campaign.
Thank you very much for your support. Every dollar counts toward achieving this loud and rowdy goal. You will go down in history for helping bring a great, new tradition to UTSA. Thank you very much and Go 'Runners!
-------------------------------
Watch the Rowdy Cannon Campaign giving video.
Connect with UTSA online at Facebook, Twitter, YouTube, Instagram and LinkedIn.
Events
Students and alumni of all partnering UT System institutions will have the opportunity to virtually network with employers from across the nation.
Accessible Online
---