UTSA architecture students honored in national student design competition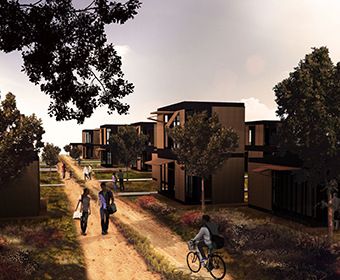 (April 27, 2017) -- The American Institute of Architects Committee on the Environment (AIA COTE) in partnership with the Association of Collegiate Schools of Architecture (ACSA), has selected an architectural proposal by two University of Texas at San Antonio (UTSA) students as one of ten winning entries in the prestigious 2016-17 AIA COTE Top Ten for Students Design Competition. A jury of national sustainability experts honored Estefania Barajas and Jorden Gomez, both undergraduates in the UTSA College of Architecture, Construction and Planning, for their proposal, "Housing a Million."
The competition was highly competitive, with more than 600 participants from 38 schools in the United States and Canada. The winning projects are exhibited today through April 29 at the AIA Annual Convention in Orlando, FL and later at the 106th ACSA Annual Meeting in March 2018. Barajas and Gomez's proposal emerged from a design studio led by UTSA assistant professors Ian Caine and Rahman Azari. Barajas and Gomez's win marks the second year in a row that a UTSA studio project sponsored by Caine and Azari has been honored as one of ten winning teams in the annual AIA COTE competition.
"Dr. Azari and I are thrilled that the COTE jury decided to recognize Stephanie and Jorden's studio project, which confronts the difficult issue of affordable housing in a powerful and direct way," Caine said. "'Housing a Million' pursues poetry and performance within the tight constraints of the most mundane of residential prototypes — modular housing. In this regard, the project wonderfully fulfills the goals of the COTE studio."
The competition recognizes ten exceptional studio projects that seamlessly integrate innovative, regenerative strategies within their broader design concepts. The program challenged students to submit projects that use a thoroughly integrated approach to architecture, natural systems, and technology to provide architectural solutions that protect and enhance the environment.
San Antonio projects to add 1.1 million people to its population by 2040. In 25 years, this influx will bring the population of the city from 1.4 million to 2.5 million, requiring an additional 500,000 units of housing. "Housing a Million," places micro-units, which comprise a small studio apartment with a fully functioning kitchen and bathroom, in the backyard of existing homes in a south San Antonio neighborhood. The proposal provides more affordable housing, increases engagement and inclusion, and diversifies available housing typologies. It also adds walking and biking trails in the existing alley, which will increase transportation options for the neighborhood.
A primary goal of the project is to generate a micro-unit that minimizes costs for cooling and illumination. Both the envelope and structure of the building are made of modular Structural Insulated Panels (SIPs), which are prefabricated and offer relatively inexpensive installation. The panels create an air-tight envelope that allows for control of indoor air, reduces energy use, filters pollutants and allergens, and decreases possibility for mold. To address San Antonio's humid, subtropical climate, the micro-units utilize four primary design strategies — the well-insulated envelope, window systems with operable shading, large shaded south-facing windows, and cross-ventilation through operable windows. The roof is designed to collect and store rainwater in cisterns, while bioswales use native flora, soil, and a gravel liner to treat water before it infiltrates into the local Edwards Aquifer.
Calling the concept inspiring and practical, the jury commended the project for addressing a hard question — how do we increase suburban population density?
"By using modular housing units, the students tackle a problem that needs more attention," the jury noted. "This project takes a pragmatic approach and addresses sustainability on site as well as a regional level."
UTSA is ranked among the top 400 universities in the world and among the top 100 in the nation, according to Times Higher Education.
-------------------------------
View all the 2016-17 AIA COTE winning projects.
Learn more about Barajas and Gomez's winning entry.
Learn more about the UTSA College of Architecture, Construction and Planning.
Connect with UTSA online at Facebook, Twitter, YouTube, Instagram and LinkedIn.
Events
Jenny Hsieh, professor and Semmes Foundation Chair in Cell Biology and director, UTSA Brain Health Consortium provides an engaging look into the world of gene editing.
South Texas Research Facility, 8403 Floyd Curl Dr., San Antonio
UTSA will offer science, engineering, architecture, sports, music, writing and language and culture camps for kids, teens and adults.  Register now.
Various locations, Main and Downtown Campuses
Future Roadrunners and families prepare for everything they need to know before the fall semester.
Various locations, Main and Downtown Campuses
Join us for cupcakes and lots of Roadrunner spirit as we celebrate the day UTSA was created by the Texas Legislature.
Sombrilla, Main Campus and Frio Street Commons, Downtown Campus
Join us as we celebrate this momentoud day in UTSA history by paying homage to the moment Governor Preston Smith signed the legislation creating UTSA exactly 50 years ago on June 5, 1969.
The Alamo, 300 Alamo Plaza, San Antonio
The State of Hand Stitch is a survey of eleven women artists in Texas working with thread and needle at a time when embroidery is increasingly recognized as a medium of choice by serious artists. Opening reception is June 5 at 5pm. Exhibit continues through Aug. 9.
Arts Building, Main Art Gallery (ART 2.03.04), Main Campus
For the 48th year, the ITC brings culture to life with music, dance, artisanship, food and hands-on experiences that connect Texans to their roots.
UTSA Institute of Texan Cultures, Hemisfair Campus
The fifth annual SAMHS and Universities Research Forum (SURF) is a regional event that highlights the latest research and discoveries of trainees, faculty, staff and students working to improve health outcomes.
H-E-B Student Union Ballroom (HSU 1.106),Main Campus
---