UTSA architecture students honored in national student design competition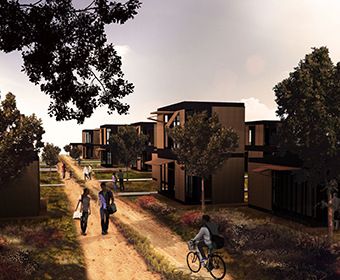 (April 27, 2017) -- The American Institute of Architects Committee on the Environment (AIA COTE) in partnership with the Association of Collegiate Schools of Architecture (ACSA), has selected an architectural proposal by two University of Texas at San Antonio (UTSA) students as one of ten winning entries in the prestigious 2016-17 AIA COTE Top Ten for Students Design Competition. A jury of national sustainability experts honored Estefania Barajas and Jorden Gomez, both undergraduates in the UTSA College of Architecture, Construction and Planning, for their proposal, "Housing a Million."
The competition was highly competitive, with more than 600 participants from 38 schools in the United States and Canada. The winning projects are exhibited today through April 29 at the AIA Annual Convention in Orlando, FL and later at the 106th ACSA Annual Meeting in March 2018. Barajas and Gomez's proposal emerged from a design studio led by UTSA assistant professors Ian Caine and Rahman Azari. Barajas and Gomez's win marks the second year in a row that a UTSA studio project sponsored by Caine and Azari has been honored as one of ten winning teams in the annual AIA COTE competition.
"Dr. Azari and I are thrilled that the COTE jury decided to recognize Stephanie and Jorden's studio project, which confronts the difficult issue of affordable housing in a powerful and direct way," Caine said. "'Housing a Million' pursues poetry and performance within the tight constraints of the most mundane of residential prototypes — modular housing. In this regard, the project wonderfully fulfills the goals of the COTE studio."
The competition recognizes ten exceptional studio projects that seamlessly integrate innovative, regenerative strategies within their broader design concepts. The program challenged students to submit projects that use a thoroughly integrated approach to architecture, natural systems, and technology to provide architectural solutions that protect and enhance the environment.
San Antonio projects to add 1.1 million people to its population by 2040. In 25 years, this influx will bring the population of the city from 1.4 million to 2.5 million, requiring an additional 500,000 units of housing. "Housing a Million," places micro-units, which comprise a small studio apartment with a fully functioning kitchen and bathroom, in the backyard of existing homes in a south San Antonio neighborhood. The proposal provides more affordable housing, increases engagement and inclusion, and diversifies available housing typologies. It also adds walking and biking trails in the existing alley, which will increase transportation options for the neighborhood.
A primary goal of the project is to generate a micro-unit that minimizes costs for cooling and illumination. Both the envelope and structure of the building are made of modular Structural Insulated Panels (SIPs), which are prefabricated and offer relatively inexpensive installation. The panels create an air-tight envelope that allows for control of indoor air, reduces energy use, filters pollutants and allergens, and decreases possibility for mold. To address San Antonio's humid, subtropical climate, the micro-units utilize four primary design strategies — the well-insulated envelope, window systems with operable shading, large shaded south-facing windows, and cross-ventilation through operable windows. The roof is designed to collect and store rainwater in cisterns, while bioswales use native flora, soil, and a gravel liner to treat water before it infiltrates into the local Edwards Aquifer.
Calling the concept inspiring and practical, the jury commended the project for addressing a hard question — how do we increase suburban population density?
"By using modular housing units, the students tackle a problem that needs more attention," the jury noted. "This project takes a pragmatic approach and addresses sustainability on site as well as a regional level."
UTSA is ranked among the top 400 universities in the world and among the top 100 in the nation, according to Times Higher Education.
-------------------------------
View all the 2016-17 AIA COTE winning projects.
Learn more about Barajas and Gomez's winning entry.
Learn more about the UTSA College of Architecture, Construction and Planning.
Connect with UTSA online at Facebook, Twitter, YouTube, Instagram and LinkedIn.
Events
In honor of UTSA's 50th Anniversary in 2019, the university is hosting Roadrunner Days Spring Edition - two weeks of semester-launching activities built around our deeply held values of student success, student involvement, community service and fun!
Various locations, Main and Downtown Campuses
All UTSA students, faculty, staff, alums & families are invited to march as a unified community. Register here: bit.ly/2TYbHbR. Shuttles will be provided from the Main and Downtown Campuses.  
Martin Luther King, Jr. Academy, 3501 MLK Dr., San Antonio
UTSA's John Nix invites the community to sing "Amazing Grace" and "We Shall Overcome" at 11 a.m. on Martin Luther King Jr. Day. The intent of this nationwide effort is to honor Dr. King's legacy and to spread a sense of community in the United States.    
Locations throughout the United States
Opening Reception got exhibit featuring artists Miguel Aragon, Aaron Coleman, Sandra Fernandez, Annalise Gratovich, Marco Hernandez, Kristen Powers Nowlin, & Patricia Villalobos Echeverria
Main Art Gallery, Arts Building (ART 2.03.04), Main Campus
Tracy Cowden, Roland K. Blumberg Endowed Professor in Music and chair of the UTSA Department of Music launches the UTSA 50th Anniversary Scholars Speaker Series with Music as Medicine: The Power and Influence of Music on our Health.
Radius Center, 106 Auditorium Cir. #120, San Antonio
UTSA African American Studies Program presents this series featuring Walter M. Kimbrough, president of Dillard University.
Student Union Retama Auditorium (SU 2.02.02), Main Campus)
Join fellow Runners to walk for 10 minutes on the Main Campus. The event reminds us of the importance of exercise, diet and healthy habits in protecting our hearts.
Outside the North Paseo Building, Main Campus
The annual event features authentic foods, music, dance, martial arts, shopping, games and entertainment from China, to the Indian Sub-continent, and the island nations of the Pacific. The Festival features two stages, a martial arts demonstration area, children's hands on crafting area, anime activities, bonsai and ikebana displays, mahjong table and more.
UTSA Institute of Texan Cultures, Hemisfair Campus
---