UTSA receives accolades as one of the world's top young universities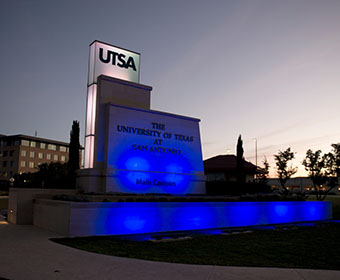 (April 5, 2017) -- UTSA is ranked among the top four young universities in the United States and among the top 68 young universities in the world under 50 years old, according to Times Higher Education's prestigious Young University Rankings. UTSA's international standing increased nine places from 2016, when it was ranked No. 77.
The 2017 ranking, released today, included 200 universities under the age of 50 from around the world and measured excellence in teaching, research, citations, international outlook and industry income.
UTSA scored particularly strong in the citations category, which measured research influence by examining the number of times a university's published research was cited by scholars around the world. To develop the measurement, which accounted for 30 percent of the ranking's overall score, Times Higher Education reviewed the citations of more than 11.3 million journal articles from 2011 to 2015.
UTSA also ranked high in research, which accounted for an additional 30 percent of the overall ranking. UTSA s a top-tier research university with core strengths in cybersecurity and cloud computing, brain health and biomedicine, social issues, education, advanced materials and sustainability. Over the last decade, it has expanded its research initiatives and created additional research opportunities for students by recruiting faculty members who are highly sought-after in their fields. These researchers joined UTSA from universities such as Harvard, Yale, Cornell, Stanford, Purdue and MIT.
Other UTSA strengths included international outlook, reflecting its ability to attract students, faculty members and research collaborators from around the world, and industry income, which measured UTSA's commercialization activity including innovations, inventions and industry consultancies.
"Times Higher Education's rankings are widely considered some of the most respected international measures of excellence in higher education," said UTSA Interim President Dr. Pedro Reyes. "This ranking is an affirmation that our academic and research programs are among the top in the world and our students are getting world-class education and training to prepare them for their careers."
Only four other U.S. universities made this year's Young Universities list. They include UT-Dallas (#21), Rush University (#33), George Mason University (#47) and Florida International University (#89).
This is the fifth time that UTSA has been included in Times Higher Education's Young University Rankings. The university also was included in the publication's 2012, 2013 and 2014 and 2016 rankings.
-------------------------------
View the complete 2017 list of Times Higher Education's best young universities in the world.
Learn more about Time's Higher Education's Young University Ranking methodology.
Connect with UTSA online at Facebook, Twitter, YouTube, Instagram and LinkedIn.
Events
De-stress during Finals Week with UTSA Libraries' Relaxation Stations, located at John Peace Library on the second floor, and at the Downtown Library. The Relaxation Stations will include puzzles, coloring and more from Dec. 6-Dec. 14.
John Peace Library, second floor and Downtown Library, Main and Downtown Campuses
This UTSA student exhibit features the work of anthropology students who have examined the effects tourism has on local culture.
UTSA Institute of Texan Cultures, Hemisfair Campus
Students from grades 9 to 12 at Brooks Academy of Science and Engineering delved into their family histories and turned their family photos into artworks.
UTSA Institute of Texan Cultures, Hemisfair Campus
The first ceremony begins at 10 a.m. honors graduates from the College of Architecture, Construction and Planning, College of Business, College of Education and Human Development and College of Public Policy.
Alamodome, 100 Montana St., San Antonio
At 4 p.m., the second ceremony will be held to honor graduates from the College of Engineering, College of Liberal and Fine Arts, College of Science and the University College.
Alamodome, 100 Montana St., San Antonio
UTSA's John Nix invites the community to sing "Amazing Grace" and "We Shall Overcome" at 11 a.m. on Martin Luther King Jr. Day. The intent of this nationwide effort is to honor Dr. King's legacy and to spread a sense of community in the United States.    
Locations throughout the United States
The annual event features authentic foods, music, dance, martial arts, shopping, games and entertainment from China, to the Indian Sub-continent, and the island nations of the Pacific. The Festival features two stages, a martial arts demonstration area, children's hands on crafting area, anime activities, bonsai and ikebana displays, mahjong table and more.
UTSA Institute of Texan Cultures, Hemisfair Campus
UTSA Day is an Open House and one of the best ways to see what it is like to be part of the UTSA Family! Schedule a visit the way you want, based on your interests and time. Learn more about the next steps on becoming a Roadrunner!
Various locations, Main Campus
---