UTSA receives accolades as one of the world's top young universities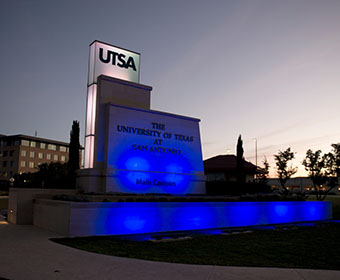 (April 5, 2017) -- UTSA is ranked among the top four young universities in the United States and among the top 68 young universities in the world under 50 years old, according to Times Higher Education's prestigious Young University Rankings. UTSA's international standing increased nine places from 2016, when it was ranked No. 77.
The 2017 ranking, released today, included 200 universities under the age of 50 from around the world and measured excellence in teaching, research, citations, international outlook and industry income.
UTSA scored particularly strong in the citations category, which measured research influence by examining the number of times a university's published research was cited by scholars around the world. To develop the measurement, which accounted for 30 percent of the ranking's overall score, Times Higher Education reviewed the citations of more than 11.3 million journal articles from 2011 to 2015.
UTSA also ranked high in research, which accounted for an additional 30 percent of the overall ranking. UTSA s a top-tier research university with core strengths in cybersecurity and cloud computing, brain health and biomedicine, social issues, education, advanced materials and sustainability. Over the last decade, it has expanded its research initiatives and created additional research opportunities for students by recruiting faculty members who are highly sought-after in their fields. These researchers joined UTSA from universities such as Harvard, Yale, Cornell, Stanford, Purdue and MIT.
Other UTSA strengths included international outlook, reflecting its ability to attract students, faculty members and research collaborators from around the world, and industry income, which measured UTSA's commercialization activity including innovations, inventions and industry consultancies.
"Times Higher Education's rankings are widely considered some of the most respected international measures of excellence in higher education," said UTSA Interim President Dr. Pedro Reyes. "This ranking is an affirmation that our academic and research programs are among the top in the world and our students are getting world-class education and training to prepare them for their careers."
Only four other U.S. universities made this year's Young Universities list. They include UT-Dallas (#21), Rush University (#33), George Mason University (#47) and Florida International University (#89).
This is the fifth time that UTSA has been included in Times Higher Education's Young University Rankings. The university also was included in the publication's 2012, 2013 and 2014 and 2016 rankings.
-------------------------------
View the complete 2017 list of Times Higher Education's best young universities in the world.
Learn more about Time's Higher Education's Young University Ranking methodology.
Connect with UTSA online at Facebook, Twitter, YouTube, Instagram and LinkedIn.
Events
Through the month of February, the UTSA community is invited to join student organizations, colleges and departments at events that commemorate the African American people, places and events that have paved the way for racial equality.
Various locations
The UTSA Department of English presents this year's Brackenridge Distinguished Visiting Lecturer, Lawrence Venuti. Venuti is a professor of English at Temple University.
Business Building University Room (BB 2.06.04), Main Campus
Diploma Dash is a fast, certified 5k course for runners and a scenic route around Main Campus for walkers, strollers and dogs! There are individual and team prizes. Benefits UTSA students through the UTSA Alumni Association scholarship program.
UTSA Main Campus
Enjoy music, food and socializing during this fundraising event benefiting the San Antonio Symphony League for the Youth Concert Series and the ITC for its ongoing educational mission.
UTSA Institute of Texan Cultures, Hemisfair Campus
UTSA Libraries will host Robert Rico, M.P.A., Department of Criminal Justice, for his presentation "Restorative Justice: A Relational Approach to Civic Discourse." Pizza will be provided to students while supplies last.
Buena Vista Street Building (BVB 2.309), Downtown Campus
Spend an evening stirring your curiosity during these monthly talks featuring some of UTSA's most renowned faculty, and learn how the latest research in their fields applies to our daily lives. This month's speaker is Francine Romero, UTSA associate professor and associate dean of the College of Public Policy.
The Historic Guadalupe Theatre, 1301 Guadalupe St., San Antonio
Meet with 60+ representatives from Texas and out-of-state schools to get information on becoming a competitive health professions applicant and information about the application and transition process.
Student Union Denman Ballroom (SU 2.01.28), Main Campus
UTSA master's of fine arts student Lauren Riojas-Fitzpatrick showcases her thesis through an art exhibit.
Terminal 136, 136 Blue Star, San Antonio
---