Meet a Roadrunner: Victoria Vargas is breaking records in the powerlifting world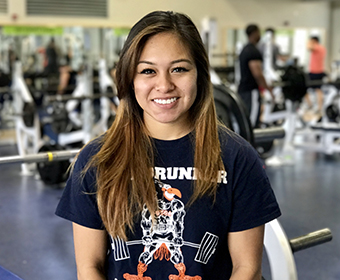 (April 26, 2017) -- Meet Victoria Vargas. She is a world-class powerlifter set on breaking records.
A native of Moore, Texas, Vargas, 22, is a member of the nationally ranked UTSA Powerlifting Team, Roadrunner Powerlifting. It won the first national title for a UTSA club sport in 2014 and has produced several top-ranked powerlifters since its founding, including UTSA alumna Molly Zunker '15.
Earlier this month, Vargas, a senior kinesiology major in the UTSA College of Education and Human Development, won gold for the second consecutive year at the USA Powerlifting Collegiate National Championships (USAPL). Finishing with the highest recorded powerlifting score for the meet, she went on to set two unofficial world records in her weight class.
Vargas was introduced to strength training and powerlifting in the eighth grade by a coach who noticed her aptitude for athletics and her natural strength. She took to it immediately, eventually moving on to competitions at the local, state and national levels. She trained and competed all throughout high school and chose to attend UTSA partly because of the prestige of its powerlifting club.
"I got into powerlifting because I wanted to get in shape and push myself beyond what I thought possible," said Vargas. "Now, I just absolutely love it. Competing at this level is very exciting."
The 4'9" Roadrunner lifted a combined 1,091.29 pounds over the course of the USAPL competition, which she says is an unofficial International Powerlifting Federation women's world record. At one point, she squatted 413.3 pounds, a record for her weight class. She often lifts without knowing the exact weight on the rack, which is set by her coaches and support staff.
"My 413.3 pound squat is about 3.6 times my body weight," said Vargas, who is currently ranked second out of 1,000 female powerlifters in the USAPL's overall rankings. "It was intense, but I was really proud of myself for doing it. I remember the rush once I realized that I had been able to lift that much because I didn't know beforehand."
As a top powerlifting competitor, Vargas travels a few times a year with other UTSA powerlifters to compete across the country. She trains for more than a dozen hours per week to keep her body up to the challenges of lifting such large quantities of weight.
"It feels amazing to have such strong and talented people around you who are just cheering you on," Vargas said. "My fellow Roadrunners and I are trying to be the best that we can be."
Vargas recently traveled to Killeen, Texas, for the International Powerlifting Federation's RAW World Classic Bench Press Championships. Last year, she took first place in her division at the RAW World Classic by lifting upwards of 330 pounds in her weight class to win the gold. This year, she placed second in her division, and she accomplished a personal best by bench pressing 187.5 pounds during the competition.
"I'm all about a good challenge," said Vargas. "I'm the kind of person who wants to overcome any type of challenge put in front of me."
After Vargas graduates in the fall, she hopes to earn her personal training certificate and enter a nursing program. She hopes to use her background in exercise science to promote healthy living in her community. She plans to continue powerlifting as long as she is able.
"I still have a lot of work to do to get to where I want to be, but I am always happy and proud of my performances," Vargas said. "It's always an honor to get to meet some of the strongest and most talented lifters in the world."
-------------------------------
Do you know a Roadrunner who is achieving great things? Email us at social@utsa.edu so that we may consider your suggestion for our next installment of Meet a Roadrunner.
Connect with UTSA online at Facebook, Twitter, YouTube, Instagram and LinkedIn.