Eduniversal recognizes top quality of UTSA master's programs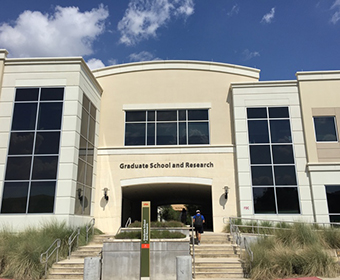 (May 2, 2017) -- Eduniversal, a Paris-based global ranking agency specializing in higher education, has recognized four graduate degree programs at The University of Texas at San Antonio in its 2017 rankings of best master's programs and best M.B.A. programs.
Eduniversal ranked UTSA the No. 24 best Master's of Arts in Communication program in the U.S. and Canada. The UTSA M.A. in Communication offers students advanced study in communication, with courses focused on new media, health, and organizational and small group communication. The program's integrated communication approach teaches students how to apply research, think critically and excel as leaders in the global workforce.
Additionally, Eduniversal has ranked two UTSA M.B.A. programs among the top 40 in the U.S. and Canada. The M.B.A. in Project Management and M.B.A. in Information Systems programs ranked Nos. 36 and 38 by the ratings agency, respectively. Eduniversal also ranked the university's M.B.A. in Real Estate Finance among the top 100 programs of its kind worldwide.
The UTSA College of Business trains business professionals, managers, executive leaders and wealth creators by providing students with technical and professional skills that can be implemented immediately in the workplace in high-demand areas. Its three M.B.A. programs include a general M.B.A., an Executive M.B.A. and a dual M.B.A./Master's of Public Health Program. The college is also known for robust coursework in cybersecurity, data analytics, entrepreneurship, financial services, and real estate finance and development.
Eduniversal assesses graduate courses worldwide in 30 fields of study. More than 12,000 postgraduate programs are evaluated each year.
The UTSA Graduate School currently offers more than 110 master's, doctoral and graduate certificate programs to more than 4,100 students, including the UTSA graduate program in cybersecurity, which is ranked No. 2 in the nation, and its nationally recognized M.B.A. programs.
Last month, Hispanic Outlook on Higher Education ranked UTSA No. 9 among the nation's top graduate schools for Hispanics.
UTSA is ranked among the top 400 universities in the world and among the top 100 in the nation, according to Times Higher Education.
-------------------------------
Learn more about the Eduniversal methodology.
Learn more about the UTSA Graduate School.
Connect with UTSA online at Facebook, Twitter, YouTube, Instagram and LinkedIn.
Events
De-stress during Finals Week with UTSA Libraries' Relaxation Stations, located at John Peace Library on the second floor, and at the Downtown Library. The Relaxation Stations will include puzzles, coloring and more from Dec. 6-Dec. 14.
John Peace Library, second floor and Downtown Library, Main and Downtown Campuses
This UTSA student exhibit features the work of anthropology students who have examined the effects tourism has on local culture.
UTSA Institute of Texan Cultures, Hemisfair Campus
Students from grades 9 to 12 at Brooks Academy of Science and Engineering delved into their family histories and turned their family photos into artworks.
UTSA Institute of Texan Cultures, Hemisfair Campus
The first ceremony begins at 10 a.m. honors graduates from the College of Architecture, Construction and Planning, College of Business, College of Education and Human Development and College of Public Policy.
Alamodome, 100 Montana St., San Antonio
At 4 p.m., the second ceremony will be held to honor graduates from the College of Engineering, College of Liberal and Fine Arts, College of Science and the University College.
Alamodome, 100 Montana St., San Antonio
UTSA's John Nix invites the community to sing "Amazing Grace" and "We Shall Overcome" at 11 a.m. on Martin Luther King Jr. Day. The intent of this nationwide effort is to honor Dr. King's legacy and to spread a sense of community in the United States.    
Locations throughout the United States
The annual event features authentic foods, music, dance, martial arts, shopping, games and entertainment from China, to the Indian Sub-continent, and the island nations of the Pacific. The Festival features two stages, a martial arts demonstration area, children's hands on crafting area, anime activities, bonsai and ikebana displays, mahjong table and more.
UTSA Institute of Texan Cultures, Hemisfair Campus
Level up your career with a graduate business degree from the UTSA College of Business. Join us for this Open House to learn which of our 13 degree programs is right for you.
Business Building (BB 2.06.04), Main Campus
---