Long-time UTSA employee George Jeffery passes away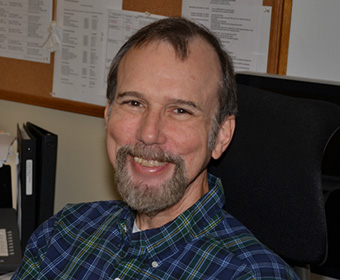 (May 5, 2017) -- George P. Jeffery, data/reporting manager in the Office of the Provost and Vice President for Academic Affairs, died Thursday, May 4, following a brief illness.
Jeffery joined the university in 1992 as a computer programmer in the College of Business. There, he designed and maintained databases for the Institute for Studies in Business and was responsible for the design and implementation of the college's website.
From 1995 to 2000, he worked for the College of Social and Behavioral Sciences as a system analyst, providing technical assistance for the dean's office and all divisions and centers within the college. Among his projects, he upgraded and networked student computing labs and built the college's first website.
He joined the provost's office in 2000 and was responsible for data collection and analysis.
"Over his 25-year career at UTSA, George provided critical, behind-the-scenes assistance in support of the university's academic mission," said Anujani Aluwihare, associate vice provost of finance and resource planning. "One thing I particularly admired about him was his readiness to tackle new projects and challenges and lend a hand to his coworkers. He will be greatly missed in our office and by his many colleagues across campus for his expertise and his kind spirit."
Arrangements are being made by Grimes Funeral Chapels of Kerrville.
Events
This UTSA student exhibit features the work of anthropology students who have examined the effects tourism has on local culture.
UTSA Institute of Texan Cultures, Hemisfair Campus
Students from grades 9 to 12 at Brooks Academy of Science and Engineering delved into their family histories and turned their family photos into artworks.
UTSA Institute of Texan Cultures, Hemisfair Campus
UTSA's John Nix invites the community to sing "Amazing Grace" and "We Shall Overcome" at 11 a.m. on Martin Luther King Jr. Day. The intent of this nationwide effort is to honor Dr. King's legacy and to spread a sense of community in the United States.    
Locations throughout the United States
The annual event features authentic foods, music, dance, martial arts, shopping, games and entertainment from China, to the Indian Sub-continent, and the island nations of the Pacific. The Festival features two stages, a martial arts demonstration area, children's hands on crafting area, anime activities, bonsai and ikebana displays, mahjong table and more.
UTSA Institute of Texan Cultures, Hemisfair Campus
Level up your career with a graduate business degree from the UTSA College of Business. Join us for this Open House to learn which of our 13 degree programs is right for you.
Business Building (BB 2.06.04), Main Campus
UTSA Day is an Open House and one of the best ways to see what it is like to be part of the UTSA Family! Schedule a visit the way you want, based on your interests and time. Learn more about the next steps on becoming a Roadrunner!
Various locations, Main Campus
Diploma Dash is a fast, certified 5k course for runners and a scenic route around Main Campus for walkers, strollers and dogs! There are individual and team prizes. Benefits UTSA students through the UTSA Alumni Association scholarship program.
UTSA Main Campus
Enjoy music, food and socializing during this fundraising event benefiting the San Antonio Symphony League for the Youth Concert Series and the ITC for its ongoing educational mission.
UTSA Institute of Texan Cultures, Hemisfair Campus
---