Long-time UTSA employee George Jeffery passes away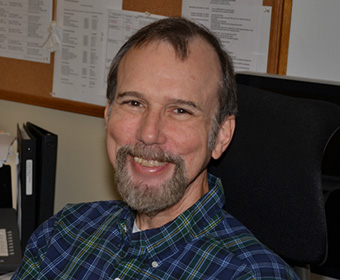 (May 5, 2017) -- George P. Jeffery, data/reporting manager in the Office of the Provost and Vice President for Academic Affairs, died Thursday, May 4, following a brief illness.
Jeffery joined the university in 1992 as a computer programmer in the College of Business. There, he designed and maintained databases for the Institute for Studies in Business and was responsible for the design and implementation of the college's website.
From 1995 to 2000, he worked for the College of Social and Behavioral Sciences as a system analyst, providing technical assistance for the dean's office and all divisions and centers within the college. Among his projects, he upgraded and networked student computing labs and built the college's first website.
He joined the provost's office in 2000 and was responsible for data collection and analysis.
"Over his 25-year career at UTSA, George provided critical, behind-the-scenes assistance in support of the university's academic mission," said Anujani Aluwihare, associate vice provost of finance and resource planning. "One thing I particularly admired about him was his readiness to tackle new projects and challenges and lend a hand to his coworkers. He will be greatly missed in our office and by his many colleagues across campus for his expertise and his kind spirit."
Arrangements are being made by Grimes Funeral Chapels of Kerrville.