Community now has easier access to UTSA Park West Athletics Complex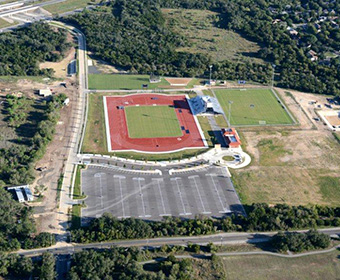 (May 5, 2017) -- A completed city project brings greater access to The University of Texas at San Antonio (UTSA) Park West Athletics Complex. UTSA collaborated with the City of San Antonio on the project that opens Kyle Seale Parkway at the W. Hausman Road intersection. UTSA Interim President Pedro Reyes, District 8 Councilman Ron Nirenberg and community leaders celebrated the opening today with a ribbon cutting.
"We are grateful for our relationships with the city and the county, as these collaborations have helped us advance the development of UTSA and the learning environment we provide to tens of thousands of students every year," said Kathryn-Funk Baxter, UTSA vice president for Business Affairs.
The 125-acre Park West Athletics Complex, which sits two miles from the Main Campus, opened in August 2013. The complex is home to a soccer field and track and field stadium, serving Roadrunner athletes and designated to be a host site for outside sporting events.
The city made safety improvements at Kyle Seale Parkway and Hausman Road including a wider intersection, signal modifications, pavement markings, new curbs and sidewalk connections.
"These are the kinds of projects that will help connect UTSA to the rest of San Antonio," Nirenberg said. "The Park West Athletics Complex is and will continue to be an incredible asset to our community."
The road improvements will allow the community easier access to the track and field and soccer events at Park West Athletics Complex. There will now be two ways into and out of the complex, making it easier for people to get to events, and it will increase visibility of the complex.
"We are proud to invite the community to access our Park West Athletics Complex through the opening of Kyle Seale Parkway," said Sam Gonzales, UTSA vice president for student affairs. "For me, it is symbolic of the strong connection between San Antonio and university as we build for the future."
UTSA also has plans to expand the complex. It is requesting an investment of $10 million from the 2017 City Bond Initiative to support the development of a $35 million multi-purpose team facility. UTSA Athletics as well as visiting soccer and track and field competitors will benefit from locker rooms, meeting rooms, a weight and conditioning room, and medical training areas. Bexar County voters passed the initiative during the May 6 General Election.
-------------------------------
Learn more about UTSA Athletics.
Connect with UTSA online at Facebook, Twitter, YouTube, Instagram and LinkedIn.
Events
In honor of UTSA's 50th Anniversary in 2019, the university is hosting Roadrunner Days Spring Edition - two weeks of semester-launching activities built around our deeply held values of student success, student involvement, community service and fun!
Various locations, Main and Downtown Campuses
Opening Reception got exhibit featuring artists Miguel Aragon, Aaron Coleman, Sandra Fernandez, Annalise Gratovich, Marco Hernandez, Kristen Powers Nowlin, & Patricia Villalobos Echeverria
Main Art Gallery, Arts Building (ART 2.03.04), Main Campus
Tracy Cowden, Roland K. Blumberg Endowed Professor in Music and chair of the UTSA Department of Music launches the UTSA 50th Anniversary Scholars Speaker Series with Music as Medicine: The Power and Influence of Music on our Health.
Radius Center, 411 E. Martin, San Antonio
UTSA African American Studies Program presents this series featuring Walter M. Kimbrough, president of Dillard University.
Student Union Retama Auditorium (SU 2.02.02), Main Campus)
Join fellow Runners to walk for 10 minutes on the Main Campus. The event reminds us of the importance of exercise, diet and healthy habits in protecting our hearts.
Outside the North Paseo Building, Main Campus
The annual event features authentic foods, music, dance, martial arts, shopping, games and entertainment from China, to the Indian Sub-continent, and the island nations of the Pacific. The Festival features two stages, a martial arts demonstration area, children's hands on crafting area, anime activities, bonsai and ikebana displays, mahjong table and more.
UTSA Institute of Texan Cultures, Hemisfair Campus
UTSA Libraries will host Bryan Gervais, UTSA assistant professor in the Dept. of Political Science & Geography, for his presentation "Political Incivility in the Digital Age." Pizza will be provided to UTSA students while supplies last.
John Peace Library Assembly Room (JPL 4.04.22)
Level up your career with a graduate business degree from the UTSA College of Business. Join us for this Open House to learn which of our 13 degree programs is right for you.
Business Building (BB 2.06.04), Main Campus
---