Community now has easier access to UTSA Park West Athletics Complex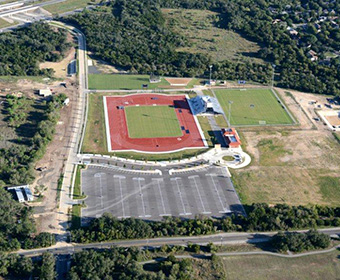 (May 5, 2017) -- A completed city project brings greater access to The University of Texas at San Antonio (UTSA) Park West Athletics Complex. UTSA collaborated with the City of San Antonio on the project that opens Kyle Seale Parkway at the W. Hausman Road intersection. UTSA Interim President Pedro Reyes, District 8 Councilman Ron Nirenberg and community leaders celebrated the opening today with a ribbon cutting.
"We are grateful for our relationships with the city and the county, as these collaborations have helped us advance the development of UTSA and the learning environment we provide to tens of thousands of students every year," said Kathryn-Funk Baxter, UTSA vice president for Business Affairs.
The 125-acre Park West Athletics Complex, which sits two miles from the Main Campus, opened in August 2013. The complex is home to a soccer field and track and field stadium, serving Roadrunner athletes and designated to be a host site for outside sporting events.
The city made safety improvements at Kyle Seale Parkway and Hausman Road including a wider intersection, signal modifications, pavement markings, new curbs and sidewalk connections.
"These are the kinds of projects that will help connect UTSA to the rest of San Antonio," Nirenberg said. "The Park West Athletics Complex is and will continue to be an incredible asset to our community."
The road improvements will allow the community easier access to the track and field and soccer events at Park West Athletics Complex. There will now be two ways into and out of the complex, making it easier for people to get to events, and it will increase visibility of the complex.
"We are proud to invite the community to access our Park West Athletics Complex through the opening of Kyle Seale Parkway," said Sam Gonzales, UTSA vice president for student affairs. "For me, it is symbolic of the strong connection between San Antonio and university as we build for the future."
UTSA also has plans to expand the complex. It is requesting an investment of $10 million from the 2017 City Bond Initiative to support the development of a $35 million multi-purpose team facility. UTSA Athletics as well as visiting soccer and track and field competitors will benefit from locker rooms, meeting rooms, a weight and conditioning room, and medical training areas. Bexar County voters passed the initiative during the May 6 General Election.
-------------------------------
Learn more about UTSA Athletics.
Connect with UTSA online at Facebook, Twitter, YouTube, Instagram and LinkedIn.