Commencement Spotlight: Richard Giddens, Jr. is Cambridge-bound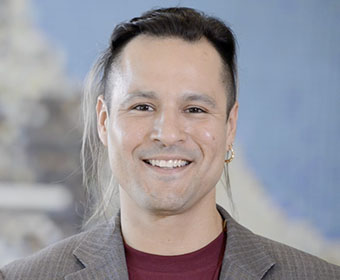 (May 1, 2017) -- Meet Richard "Richie" Giddens, Jr. In the fall, this women's studies/humanities double major will unpack his bags and begin a new adventure at Cambridge University in England.
Born and raised in San Antonio, Giddens, 35, took a non-traditional journey into higher education. He began taking community college classes in 1999 and took a break prior to enrolling at UTSA. During those interim years, he worked as a licensed real estate agent then as a licensed cosmetologist, a line of work he was inspired to pursue by his mother's own career as a beautician.
Cosmetology helped Giddens shape his identity. In his youth, Giddens became an advocate for social justice and a lover of the Greco-Roman classics. In high school, his mother allowed him to experiment with his style, and he became an ardent fan of self-expression. Those experiences helped Giddens realize that he wanted a career that would allow him to help others express their humanity.
When it was time to consider universities, Giddens was drawn to the UTSA Women's Studies Institute, which is recognized for its extensive work in the community, and as well as the university's classics program. He also joined the UTSA Honors College and the McNair Scholars Program.
"I was always very much into human rights activism, and queer activism, in particular, and that's what led me to the Women's Studies program at UTSA," Giddens said. "I've wanted to study the classics in order to really understand how people who may have been LGBT lived and presented themselves throughout history. The Women's Studies Institute has been phenomenal in helping me understand the recent past, the present and the future."
Giddens says that the unique viewpoints and mentorship from faculty and his fellow students in the UTSA Women's Studies Institute provided him with a strong academic direction, one that he feels would not have been possible anywhere else.
"In the Women's Studies Institute, we have excellent professors who are very much not about the mainstream feminist movements," Giddens said. "We've learned about women of color and, specifically, queer women of color authors, experiences that we don't often get in the mainstream narratives. I came to UTSA looking for mentors, and I found them."
As a UTSA student, Giddens has been able to study a variety of issues. For the last several years, he has been engaged in research into the lives and experiences of queer Mexican-Americans in Texas, or 'Tejano/as,' and sexual assault.
In particular, Giddens has examined the social services and resources available, as well as what they might be lacking, for survivors through first-hand accounts from the people those resources are meant to support. He aims to create an archive of self-care and self-love resources for the country's most vulnerable communities and has already presented his research at conferences and universities across the country.
Building a foundation of academic success at UTSA attracted Cambridge's admissions officers to offer Giddens a placement in its Master's of Philosophy degree program in Multidisciplinary Gender Studies. He starts the program this fall, on the heels of his UTSA graduation.
"At UTSA, I have been embraced as an underrepresented student for my subjectivity, my studies and my passions," said Giddens. "I have been propelled into directions that I never thought possible, like this journey to Cambridge, and that's all thanks to UTSA."
-------------------------------
Learn more about the B.A. in Classical Studies and Humanities at UTSA.
Learn more about the UTSA Women's Studies Program.
Learn more about the UTSA Honors College.
Learn more about UTSA Commencement.
Meet other Spring 2017 graduates.
Connect with UTSA online at Facebook, Twitter, YouTube, Instagram and LinkedIn.