UTSA named Texas university with most accessible safety resources, according to CollegeStats.org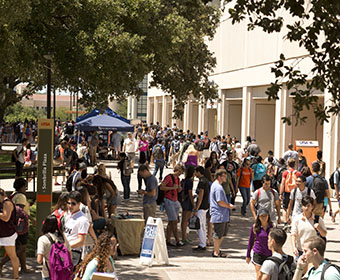 (May 4, 2017) -- CollegeStats.org, a nonprofit higher education evaluation service that provides statistics to help students make informed college choices, has ranked UTSA the leader in Texas and No. 20 in the nation for having the best campus safety resources, according to its 2016 College Campus Safety Rankings. The ranking measured the availability and accessibility of safety resources, emergency procedures, drug and alcohol policies, and crime statistics at the nation's largest universities.
To develop its ranking, Collegestats.org built a list of 113 colleges and universities based on enrollment and geography then located each institution's security information or campus police web page. It scored the accessibility of emergency phone numbers, safety tips, sexual assault procedures, and crime statistics and reports on each university's website. The ranking also assessed daily activity and engagement on each institution's social media presence, where safety information is often provided.
"There is nothing more important than creating a safe environment where our students, faculty staff and visitors can flourish," said Gerald Lewis, UTSA associate vice president of public safety and chief of police. "Particularly for prospective students trying to decide what college to attend, having safety information that's readily available and easy to understand is imperative. We are proud to see UTSA recognized for its leadership in safety preparedness and transparency."
In all, four Texas universities made the list, including UTSA (No. 20), the University of Houston (No. 27), the University of North Texas (No. 30) and UT-Austin (No. 33).
UTSA offers a variety of programs year around that encourage personal and community safety, such as Party on the Paseo, which allows students to enjoy Fiesta San Antonio in a safe, alcohol-free environment; Rowdy Wing Fling, an educational engagement program that encourages students to consider how alcohol can impair decision making; National Night Out, a family-friendly event focused on safety and the prevention of crime; and a residential curriculum for UTSA students living in on-campus housing.
-------------------------------
Learn how the UTSA Police Department is keeping you safe.
Review UTSA's Annual Security and Fire Safety Report.
See the entire 2016 College Campus Safety Page Rankings.
Connect with UTSA online at Facebook, Twitter, YouTube, Instagram and LinkedIn.
Events
De-stress during Finals Week with UTSA Libraries' Relaxation Stations, located at John Peace Library on the second floor, and at the Downtown Library. The Relaxation Stations will include puzzles, coloring and more from Dec. 6-Dec. 14.
John Peace Library, second floor and Downtown Library, Main and Downtown Campuses
This UTSA student exhibit features the work of anthropology students who have examined the effects tourism has on local culture.
UTSA Institute of Texan Cultures, Hemisfair Campus
Students from grades 9 to 12 at Brooks Academy of Science and Engineering delved into their family histories and turned their family photos into artworks.
UTSA Institute of Texan Cultures, Hemisfair Campus
The first ceremony begins at 10 a.m. honors graduates from the College of Architecture, Construction and Planning, College of Business, College of Education and Human Development and College of Public Policy.
Alamodome, 100 Montana St., San Antonio
At 4 p.m., the second ceremony will be held to honor graduates from the College of Engineering, College of Liberal and Fine Arts, College of Science and the University College.
Alamodome, 100 Montana St., San Antonio
The annual event features authentic foods, music, dance, martial arts, shopping, games and entertainment from China, to the Indian Sub-continent, and the island nations of the Pacific. The Festival features two stages, a martial arts demonstration area, children's hands on crafting area, anime activities, bonsai and ikebana displays, mahjong table and more.
UTSA Institute of Texan Cultures, Hemisfair Campus
UTSA Day is an Open House and one of the best ways to see what it is like to be part of the UTSA Family! Schedule a visit the way you want, based on your interests and time. Learn more about the next steps on becoming a Roadrunner!
Various locations, Main Campus
Diploma Dash is a fast, certified 5k course for runners and a scenic route around Main Campus for walkers, strollers and dogs! There are individual and team prizes. Benefits UTSA students through the UTSA Alumni Association scholarship program.
UTSA Main Campus
---