UTSA professor receives grant to support sunlight-harvesting research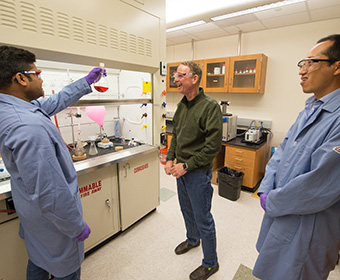 (May 8, 2017) -- Kirk Schanze, Robert A. Welch Distinguished University Chair in Chemistry at The University of Texas at San Antonio (UTSA), has received a $448,211 grant from the National Science Foundation to support his research in converting sunlight to chemical energy.
The Schanze Research Group at UTSA is focused on the interaction of light with molecules, polymers and materials. Currently, Schanze and his students are centering their work on light emission and how converting light into energy could be used in applications like solar cells and fuels.
"We make new light absorbing molecules and polymers and then we characterize what happens to their molecular structure when the absorb light," Schanze said. "We want to understand how fast the light is absorbed and what happens directly afterward because that tells us something about how the energy is being used and where it goes."
He and his students are modeling their artificial light conversion on natural photosynthesis. When plants convert sunlight into energy to feed themselves, a process occurs that separates positive and negative electron charges on the molecules. This is called charge transfer, and it's an important process in energy conversion.
In essence, charge transfer is the step when light energy is converted into stored chemical energy. With this new grant, Schanze will look deeper into this process. The group hopes to find molecules or a polymer which optimize the light to chemical energy conversion process.
"We make artificial systems in our synthesis work and they undergo similar types of processes to what happens in plant photosynthesis," he said. "We're working on trying to understand those mechanisms and mimic the kind of conversions that are happening in nature."
The end goal for Schanze is knowledge, so that other researchers are able to build upon his work and eventually develop solar fuel.
"Without this important step, we'll never accomplish the goal of making efficient artificial photosynthesis, which is very important for mankind," he said.
Further down the road, Schanze predicts solar fuel could be a large part of the energy future of the United States and the world.
"We need to create pathways toward the production of energy and fuels in ways that are carbon-neutral and independent of the needs of non-renewable resources," he said. "Everything we're doing here is in service to one day accomplishing that goal."
UTSA is ranked among the top 400 universities in the world and among the top 100 in the nation, according to Times Higher Education.
-------------------------------
Learn more about the Schanze Research Group.
Learn more about the UTSA Department of Chemistry.
Connect with UTSA online at Facebook, Twitter, YouTube, Instagram and LinkedIn.
Events
This UTSA student exhibit features the work of anthropology students who have examined the effects tourism has on local culture.
UTSA Institute of Texan Cultures, Hemisfair Campus
Students from grades 9 to 12 at Brooks Academy of Science and Engineering delved into their family histories and turned their family photos into artworks.
UTSA Institute of Texan Cultures, Hemisfair Campus
UTSA's John Nix invites the community to sing "Amazing Grace" and "We Shall Overcome" at 11 a.m. on Martin Luther King Jr. Day. The intent of this nationwide effort is to honor Dr. King's legacy and to spread a sense of community in the United States.    
Locations throughout the United States
The annual event features authentic foods, music, dance, martial arts, shopping, games and entertainment from China, to the Indian Sub-continent, and the island nations of the Pacific. The Festival features two stages, a martial arts demonstration area, children's hands on crafting area, anime activities, bonsai and ikebana displays, mahjong table and more.
UTSA Institute of Texan Cultures, Hemisfair Campus
Level up your career with a graduate business degree from the UTSA College of Business. Join us for this Open House to learn which of our 13 degree programs is right for you.
Business Building (BB 2.06.04), Main Campus
Basura Bash is a one-day, all-volunteer event to clean the San Antonio Watershed. For the past 24 years volunteers have cleaned area waterways. Join the UTSA community for the 25th Annual Basura Bash Waterways Cleanup.
Maverick Creek, near Brackenridge Lot 5, Main Campus
UTSA Day is an Open House and one of the best ways to see what it is like to be part of the UTSA Family! Schedule a visit the way you want, based on your interests and time. Learn more about the next steps on becoming a Roadrunner!
Various locations, Main Campus
Diploma Dash is a fast, certified 5k course for runners and a scenic route around Main Campus for walkers, strollers and dogs! There are individual and team prizes. Benefits UTSA students through the UTSA Alumni Association scholarship program.
UTSA Main Campus
---