New UTSA task force aims to keep sexual assault awareness and prevention top of mind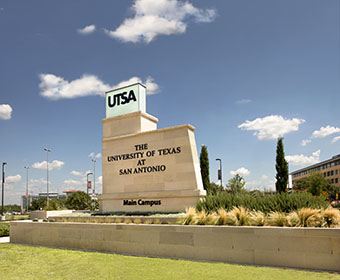 (May 1, 2017) -- The University of Texas at San Antonio (UTSA) is taking additional, proactive steps to prevent sexual misconduct involving students and keep the issue forefront in the minds of the UTSA community.
Following the March release of Cultivating Learning and Safe Environments (CLASE), a student survey exploring the prevalence of sexual harassment, stalking, dating and domestic violence, and unwanted sexual contact on UT System campuses, UTSA Interim President Pedro Reyes directed the formation of a new campus task force.
The President's Task Force on Preventing Sexual Violence on Campus is charged with ensuring that sexual assault awareness and prevention initiatives are integrated into daily campus life to reinforce appropriate behaviors and raise awareness of the programs and support services that UTSA offers to victims.
In the CLASE survey, 20 percent of UTSA students reported experiencing student-perpetrated sexual harassment, 12 percent reported stalking victimization and six percent reported rape victimization. Notably, 75 percent of victims did not report the incident and 90 percent of the incidents occurred off-campus. Ninety percent of unwanted sexual contact victims reported being in a close relationship with or acquaintances of their perpetrators.
"Sexual misconduct is not something we should talk about once a year during a 'national recognition' month or when you first enter college. It is something we should talk about every day until we have changed the culture," said Reyes. "I am asking this task force, and all UTSA faculty, staff and students, to become activists in that culture change. There must be zero tolerance for sexual misconduct."
The task force will conduct assessments in six focus areas related to sexual assault and misconduct. They include the university's coordinated campus response, current prevention programs, policies and processes, reporting options, climate surveys and program evaluation, and transparency. A report will be issued in mid-August, with specific recommendations from the task force implemented in the fall semester.
Melissa Hernandez, associate director of UTSA Counseling Services, and Bernard Arulanandam, UTSA interim vice president for research, will co-chair the task force. Additional task force members will include:
Angelica Docog, Executive Director, Institute of Texan Cultures
Annette Parker, Executive Director of Strategic Initiatives, UTSA Police Department
Barry McKinney, Director of Student Activities/Associate Dean of Students
Beth Wichman, Associate Vice President, Student Services
Candace Christensen, Assistant Professor, Social Work
Christine Moeller, Associate Athletics Director of Sports Administration and Student-Athlete Welfare, UTSA Athletics
Jesse Zapata, Professor, Counseling/Senior Vice Provost, Academic and Faculty Support
Kevin Price, Senior Associate Vice President, Student Affairs/Dean of Students
Kinitra Brooks, Associate Professor, English
Leonard Flaum, Director, Equal Opportunity Services
Marcus Thomas, UTSA Student Body President
Montana Meeker, UTSA Student Representative
Nina Sosa, Senior Equal Opportunity Investigator
Richard Harris, Professor, Sociology
Rogelio Saenz, Professor, Demography/Dean, College of Public Policy
Victoria Lopez-Herrera, Associate Director for Student Development, Campus Recreation
Jennifer Tristan, Rape Crisis Center (external advisor)
UTSA first recognized more than a decade ago that intimate and interpersonal violence was a national issue that warranted a proactive and multi-faceted approach to ensure the well being of students. As a result, it became one of the first Texas universities to incorporate sexual assault reporting and investigations into its Title IX policies. Since that time, it has developed more than 40 unique educational initiatives and large-scale events to raise awareness of and prevent sexual misconduct and sexual assault, encourage greater reporting of incidents and teach students how alcohol and drugs can impair decision-making.
-------------------------------
Read Dr. Reyes' charge to the President's Task Force on Preventing Sexual Violence on Campus.
Learn more about Cultivating Learning and Safe Environments and view key findings from the survey.
Read Dr. Reyes' message to students about sexual assault and misconduct.
Connect with UTSA online at Facebook, Twitter, YouTube, Instagram and LinkedIn.