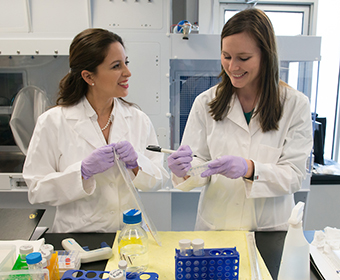 (June 28, 2017) -- UTSA graduate students, Bianca Cerqueira and Lauren Cornell '12, are winning pitch competitions left and right with their new start-up, NovoThelium, which uses bioengineered scaffolds to allow women to regenerate a nipple after a mastectomy.
"Right now, the best option for nipple reconstruction is to cut and suture the skin to create this little scar mound, which could then be tattooed for the desired pigmentation," said Cerqueira, a Ph.D. candidate in Biomedical Engineering. "But because it's essentially just scar tissue, it flattens over time."
NovoThelium, however, wants to enable women to recreate an actual nipple. They start with donor nipple tissue and process it to remove cells and DNA until it becomes an extracellular matrix scaffold. When the scaffold comes into contact with the patient's cells, she can regenerate a new nipple as it grows through the gaps in the scaffold.
"We want women to feel a sense of completeness," said Cornell, a Ph.D. candidate in Translational Science. "That may be an odd way of putting it, but this is the word most often used when women talk with us about their experience and why they would like a real nipple."
Cerqueira and Cornell's collaboration is unique in that NovoThelium did not develop as a result of their graduate research studies, but from a conversation about their shared family history of breast cancer.
"Initially we didn't know where to begin," Cerqueira said. "The biggest obstacle was that we both have science backgrounds, so the business aspects were initially a challenge for us."
The UTSA Center for Innovation Technology and Entrepreneurship (CITE) provided the pair with commercialization guidance and was also instrumental in NovoThelium receiving a $50,000 National Science Foundation grant that allowed them to develop their business model to better suit the market. In fall 2016, they won CITE's Big Rowdy Idea business model competition as well as three other pitch competitions, resulting in more than $60,000 in winnings in just one month. They were also named a finalist in the prestigious Rice Business Plan Competition.
Lynda de la Viña, Peter Flawn Professor of Entrepreneurship and Technology Management, mentored the NovoThelium team in the development of their business plan and in rehearsing their pitch until it was flawless.
"Their resilience and determination has really been something to behold," de la Viña said. "It was clear to me from the beginning that this was an idea that could really go far and have a tremendous positive impact on the lives of many people."
The pair also received training from the Research Grant Proposal Program, led by the UTSA Graduate School, which helped them understand the process of applying for grant funding for their company. In the program, they learned how to writing grant proposals, find the right sources of funding and navigate the application process, among many other valuable lessons.
Cerqueira and Cornell are now based out of the San Antonio Technology Center, where they're using their funds to continue developing their scaffold. To further develop their business acumen, they've turned to the UTSA Small Business Development Center for guidance, where they received a wealth of free advice to support their company.
"I am most looking forward to seeing our first patient when she receives real nipples," Cornell said. "I think about that all the time. I just want to share that moment with her. I can't imagine a greater reward for our work than that."