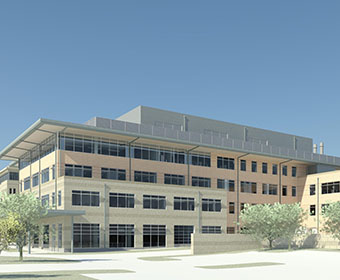 (June 9, 2017) -- Members of the UTSA community are invited to celebrate another milestone in UTSA's growth to Tier One. At 10 a.m. today, UTSA will break ground on its new Science and Engineering Building (SEB). The program will be held in the Biotechnology, Sciences and Engineering Building on the UTSA Main Campus.
Special guests will include UT System Regent James Conrad "Rad" Weaver and the Honorable José Menéndez of the Texas State Senate. UTSA President Ad Interim Pedro Reyes will also offer remarks.
Slated to open in 2020, the SEB will serve as a hub for UTSA's academic and research programs in brain health, chemical engineering, biology and chemistry. It will also house the UTSA Center for Innovation and Technology Entrepreneurship, an interdisciplinary center to spur innovation among students, faculty members and the surrounding business community.
>> Learn more about the Science and Engineering Building. 
Among the building's most unique features will be its magnitude of exterior and interior glass. Many of the laboratories in the building will be surrounded in glass so students and visitors walking by can see what's going on, a concept referred to as science on display. The goal is to encourage interaction among students from different majors, creating opportunities for students and faculty members to connect with people who have different interests. In addition to engaging more students in research, the approach has shown to improve student retention and graduation rates.
The $95 million SEB construction project will be UTSA's largest to date. The majority of the funding for the $95 million building will come from tuition revenue bonds approved by the Texas legislature in 2015.