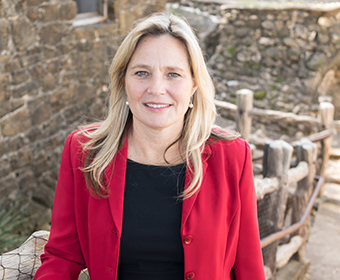 (June 7, 2017) -- Meet Colleen Swain '04. She's committed to making the city's Spanish colonial missions a top global tourist destination while retaining the spirit of the unique communities that surround them.
As director of San Antonio's World Heritage Office, the UTSA alumna coordinates projects for the recently-minted UNESCO World Heritage Sites by connecting with community leaders and residents to make sure their voices are heard.
Swain's frequent childhood visits to her grandparents' house, located in the shadow of Mission San José, make her job a bit more personal.
"Both my maternal and paternal grandparents made their homes on the south side," Swain said. "My mom went to St. Leo [the Great Catholic School], as did I, and graduated from Blessed Sacrament Academy and my dad graduated from Harlandale, both neighborhoods close to the missions."
Now, following the 2015 designation of San José and San Antonio's four other Spanish colonial missions as a UNESCO World Heritage Site, Swain is responsible for implementing a plan to maximize the economic impact of the designation and enhance the experience for visitors, all while keeping the local community's priorities in mind.
"When I go to meetings, I've met people who went to school with my dad and who know me or my family," Swain said. "This is not simply a job for me; it is a personal passion."
According to Swain, it took nine years of working together with several community partners to obtain the designation, the 23rd such site in the country out of more than 1,000 worldwide. 
"We know it can be a catalyst for social and economic change in the area surrounding the missions, with the increased visitation and tourist spending to come," said Swain.
The nomination for world heritage designation required the creation of a buffer zone surrounding the San Antonio Missions National Park. Swain oversees the work plan and coordinates projects for an area that is nearly 12 miles long and encompasses almost 5,800 acres.
"I'm working on infrastructure, economic development, transportation, land use, marketing and outreach," Swain said. "I love the history and culture. I get to be part of something that will have a positive impact on the future of the area, in balance with all the wonderful things that those of us who have grown up in the area know exist."
The San Antonio Missions National Park is one of the few UNESCO World Heritage Sites to include communities still in use as part of its designation. Swain regularly speaks with people living in neighborhoods surrounding the park to ensure their needs are being met and the authenticity of the area is being respected.
"There's a certain feeling you get with each neighborhood around each mission, and the community members want to keep whatever the uniqueness is that makes it special," Swain said. "They want to see the quality of life improve for the residents and the visitor experience enhanced, yet retain that genuine culture, history and character."
Swain obtained her master's of public administration in 2004 from the UTSA College of Public Policy, located on the university's Downtown Campus. The graduate program prepares students for top-tier careers in public service and leadership roles in government, public and non-profit sectors. UTSA public administration alumni, like Swain, are engaged across the nation in helping bring out the best their communities have to offer.
"Getting my master's degree from UTSA definitely was something that helped me grow professionally," said Swain. "Working toward the master's in public administration, you are exposed to a wide variety of aspects of public service that include theory and the analytical aspects. The UTSA program prepares you for the future and gives you excellent skills to use as a foundation for your career. The friends that I made during my time in graduate school are the core of my network."
For Swain, working on the missions district is a passion project. She genuinely loves the missions and spends countless hours among them in her professional career and her personal life.
"It's so easy to feel removed when you're among the missions; you forget that you're just a short drive from downtown," Swain said. "Taking a bike ride on the river Mission Reach, you feel like you are miles away. It's really special to be at a mission at night."
Swain's favorite thing about the missions is the feeling of history that comes from being among them.
"My favorite experience is the magic of being able to look up, see the beautiful stars and moon as a backdrop to the architecture, and feel like you have been transported back in time," Swain said.