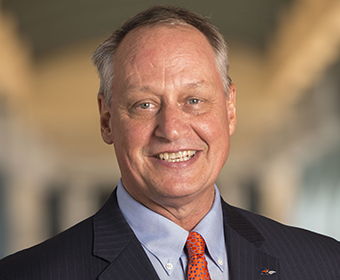 (July 25, 2017) -- The University of Texas System Board of Regents named T. Taylor Eighmy, Ph.D., the next president of The University of Texas at San Antonio. Eighmy, currently the vice chancellor for research and engagement at the University of Tennessee-Knoxville, will begin his new role Sept. 1.
Regents approved the appointment at a special called meeting of the board today. Eighmy was unanimously selected as the sole finalist for the position at a board meeting last month. Under state law, university governing boards must name finalists for a presidency at least 21 days before making an appointment.
Eighmy, who is also a professor of civil and environmental engineering at the University of Tennessee-Knoxville, has extensive experience in university leadership ranging from developing top-tier research institutions to building critical student success programs, especially around experiential learning and undergraduate research. He has worked very closely with state legislators, industry, and business and civic leaders to develop critical and sustainable public-partnerships and realize new resources from a variety of public and private sources. As a chief research officer, he has continuously championed external engagement, particularly community engagement.
While at the University of Tennessee, Eighmy and colleagues at Oak Ridge National Laboratory directed efforts that resulted in the University of Tennessee's selection to lead the Institute for Advanced Composites Manufacturing Innovation, a $259 million public-private partnership supported by the U.S. Department of Energy. Eighmy, the principal investigator of the project, was founder and served as board chair for Institute's parent company. The work of the Institute has led to significant technological innovations and economic development, both regionally and nationally, around advanced manufacturing.
Prior to his role at the University of Tennessee-Knoxville, Eighmy served as senior vice president for research at Texas Tech University, where he was instrumental in working with the community to realize National Research University status for Texas Tech. He also spent several years at the University of New Hampshire in a variety of roles, from professor to director of strategic initiatives to assistant vice president for research and interim vice president for research.
"Dr. Eighmy has an outstanding background as a professor, researcher, inventor and administrative leader which has provided rich and diverse experiences in the university setting and beyond," Regents' Chairman Paul L. Foster said. "Given UTSA's growing reputation and continued pursuit of Tier One university status, Dr. Eighmy is an exceptional choice to lead this remarkable institution as it strives to reach even greater heights."   
The search for a new leader began late last year, after President Ricardo Romo announced his plans to retire. Pedro Reyes, Ph.D., the UT System's former executive vice chancellor for Academic Affairs, has been serving as interim president since March, when Romo stepped down.
A search advisory committee including two UT institution presidents, two members of the Board of Regents, representatives from UTSA faculty, staff and deans, as well as alumni and members of the San Antonio community, reviewed candidates and made recommendations to the Board of Regents.
Eighmy is a fellow of the American Association for the Advancement of Science, the National Academy of Inventors and the American Academy of Environmental Engineers and Scientists. He served as a member of the U.S. EPA Science Advisory Board for more than 11 years and has worked closely with the National Academies' Government-University-Industry Research Roundtable, the University-Industry Demonstration Partnership and the U.S. Council on Competitiveness' Technology & Leadership Strategy Initiative. He has served on the boards of Oak Ridge Associated Universities, the Southeastern Universities Research Association, the University of Tennessee Research Foundation, Cherokee Farm Development Corporation and a number of community, economic development and technology start-up boards.
Eighmy and his wife Peggy look forward to returning to Texas and making San Antonio their home. The couple have one daughter, Hannah, a NICU nurse at Children's National Medical Center in Washington, D.C. Eighmy intends to visit the UTSA campus prior to his start date and looks forward to meeting the Roadrunner community.