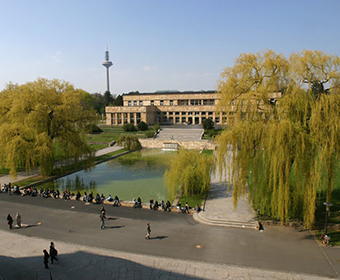 (July 7, 2017) -- A group of students from The University of Texas at San Antonio (UTSA) will take what they learn in the classroom and apply it to real life during a summer study abroad adventure to Frankfurt, Germany. They will travel with UTSA political science professor Matthias Hofferberth to take a globalization course he will be teaching at his alma mater, Goethe University.
Fifteen UTSA students will join German students for the three-credit hour course, Globalization in Transatlantic Perspectives, an intense program that will expose the students to world politics and global dynamics. The students will explore global trade, discuss current global issues such as climate change and migration, and learn how the U.S. and Germany respond to them.
"When I heard I could take this class abroad, I knew I wanted to go," said Shelby Carson, a UTSA political science senior from Austin. "I look forward to understanding the German perspective of globalization."
Throughout the two-week program, the students will spend four hours each morning in class then spend the remainder of the afternoons taking field trips and excursions. While in Germany, the students will visit with companies headquartered in Frankfurt, and the consulate general to learn about U.S. foreign service in Germany. They will tour the state capital, and meet with international offices and professors at Goethe to learn about its master's programs and other study abroad opportunities.
"Since our students will share the classroom with German students, they will be exposed to what student life looks like in Germany," said Hofferberth. "Furthermore, I can facilitate intercultural interaction because, after four-and-a-half years at UTSA and being from Frankfurt, I have a strong understanding of how German students and our students 'tick'. My motivation is to help them expand their horizons, overcome stereotypes, and learn and appreciate new perspectives from others."
Jorge Contreras plans to build a career in the international sector working for the State Department or a U.S. embassy when he graduates from UTSA this fall.
"I want to bring back to UTSA what I learn about the cultures and thought patterns of the people in Germany," said Contreras. "I want to feel what life is like there, because I may want to move there after I graduate."
"I want to experience globalization and see how the world operates outside America and encourage other Roadrunners to get out and see the world," added Erin Horvath, who graduated from UTSA in May with a bachelor's in environmental science. She will pursue a degree in global affairs at UTSA this fall. 
All the UTSA students going on the trip received financial support to help pay for the experience. They will split $11,000 that Hofferberth received from the Germany Academic Exchange, a state agency that supports academic international exchange programs to Germany. Some of the students also earned scholarships through the UTSA Office of International Programs.
"UTSA is dedicated to making a formative international experience possible for our students, particularly with the International Education Fund," said Brandon Lanners, director of UTSA Education Abroad. "In addition to providing financially accessible programs and working closely with Financial Aid, our office awards on average $180,000 total to about 150 students per year through the IEF scholarship."
Hofferberth hopes to expand this study abroad opportunity for UTSA students in the future by offering a second course for students to take at Goethe. He would also like UTSA students to study there for an entire semester and have German students come to UTSA.
"Instead of just studying it, the students will experience globalization, and that is really what it's all about," said Hofferberth.
UTSA is ranked among the top 400 universities in the world and among the top 100 in the nation, according to Times Higher Education.