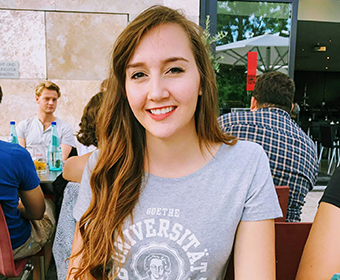 (Aug. 30, 2017) -- Meet Brooklyn Clow. She's earning her degree at UTSA so she can dedicate her life to serving her country.
Originally from Nevada, Clow moved frequently with her father, calling towns in California, Oregon, Georgia, Mississippi and Colorado home. From a young age, she aspired to careers that would allow her to serve her country and help others, perhaps a police officer or a firefighter.
"I come from pretty humble beginnings and I wasn't dealt the best cards, so I had to grow up pretty early," Clow said. "My parents didn't make a lot of good decisions, and that included addiction and moving in and out of other people's homes. We had to go wherever my father's work took us, and we were living paycheck to paycheck most of the time."
As a teenager, Clow enrolled herself in boarding school in California, before going on to the Air Force Academy, where she was an active member of the military while attending officer training.
"I just wanted to make a great life for myself and live the life my parents thought I deserved," she said. "I wanted to do something special."
While at the Air Force Academy, Clow met the man she would eventually marry. After discovering she had a genetic connective tissue disorder, and after considering other factors, she chose to be honorably discharged from the Air Force. Shortly afterward, Clow got married and her new husband received an assignment at Lackland Air Force Base, which brought them to San Antonio.
Still motivated to earn her degree, Clow discovered San Antonio was home to a top-tier university: UTSA. She enrolled in the fall of 2016 as a transfer student, and was immediately taken with UTSA Department of Political Science and Geography.
"It just seemed more liberal and I wanted that experience coming from the Air Force Academy, which is very conservative," she said. "I still had this compassionate but strong and firm mindset, and political science really leant itself to that because I was interested in the protection of others and the Constitution. My personal hero is Wonder Woman, and the recent film about her really demonstrates how I feel about service and defending democracy."
Clow felt a formidable culture shock when she began attending classes, after a year-and-a-half at the Air Force Academy wherein every aspect of her life was planned and controlled.
As she adjusted, Clow joined the Honors College and quickly established relationships with her professors and with counselors in the UTSA Office of Scholar Development to help her meet her goals during her time at UTSA. Those goals included graduating with Highest Honors, Leadership Honors with International Distinction, Department Honors with Signature Experience and GPA Latin Honors.
"I've had a lot of support," she said. "I'm not ashamed of my goals, despite their ambition, and I'm not afraid to tell my professors that I need to help to achieve them. They've been so receptive and supportive in helping me find opportunities."
The UTSA honors student is also pursuing a French minor and this summer completed a four-week study abroad program in France with the Department of Modern Languages and Literatures. When it ended, she flew to Germany to study political science at Goethe University in Frankfurt with the Department of Political Science and Geography.
"As someone who wants to dedicate my entire life to my country and diplomacy, I've taken these travels as a challenge to learn as much as I can," she said.
This fall, she plans to continue her work on her thesis, which is focused on the political implications of cyber warfare operations. She is set to graduate in the fall of 2018. After that, she plans to work on becoming the Secretary of State.