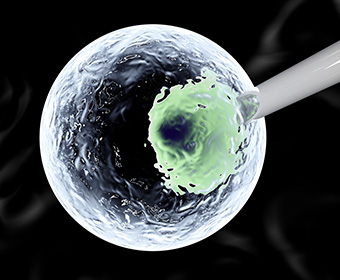 (Aug. 16, 2017) -- Brian Hermann, assistant professor of biology at The University of Texas at San Antonio, has received a $1.5 million grant from the National Institutes of Health to study male infertility with cutting-edge technology. Hermann, whose laboratory focuses on stem cell research to preserve male fertility, is examining the cells that make fertility possible in a way that has never been done before.
"What we're looking at is the formation of stem cells that support sperm production in the testes," Hermann said. "For a man to be fertile, he has to have those cells. If a man is infertile, the reason is often because these cells never formed or they formed and later died out."
The cells Hermann is studying are called spermatogonial stem cells. They're responsible for making sure that sperm are produced throughout a man's lifespan and are absolutely essential for male fertility.
"To understand why they sometimes don't form properly, we need to know how they are formed normally," Hermann said.
While researchers have presented theories about why spermatogonial stem cells don't form properly, those theories have never been tested in a laboratory setting because the tools haven't previously existed.
Hermann is utilizing cutting-edge technology, most notably single-cell gene expression profiling, which involves studying the characteristics of a single stem cell rather than a large group of them all at once.
"By singling out a cell, we're able to sort out the potentially healthy cells from the less viable ones," he said. "Previously, we couldn't look at them individually. And when you work that way, you wash out the differences between the cells."
The goal of the new project is to understand how the cell formation works on the most basic level, which could lead to a better understanding of how fertility is established in men.
"If we know how fertility works and how it forms in men, we can learn how it goes wrong," Hermann said.
Hermann believes that if his work is successful, it could open the door to earlier, more accurate diagnoses and more effective treatment to remedy infertility.
"It is exciting because there are many ways we could apply this information to help men have their own children," he said.
UTSA is ranked among the top 400 universities in the world and among the top 100 in the nation, according to Times Higher Education.