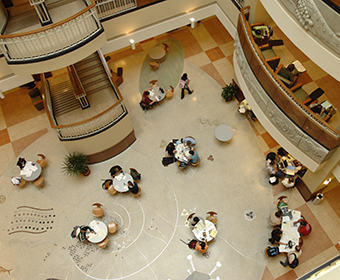 (Aug. 15, 2017) -- The U.S. Nuclear Regulatory Commission (NRC) has awarded The University of Texas at San Antonio (UTSA) two grants totaling $849,351. The funding will support the creation of new faculty development and graduate fellowship initiatives focused on nuclear safety research and education in the UTSA College of Engineering (COE).
The NRC was created by congress in 1974 to ensure the safe use of radioactive materials for beneficial civilian purposes while also protecting citizens and the environment. Per the NRC, each year, it awards federal funding to universities and colleges across the country to aid in the development of scholars who may provide long-term contributions to the nuclear industry through research and education.
Earlier this summer, Harry Millwater, the Samuel G. Dawson Endowed Professor and COE Associate Dean of Research, was awarded a $450,000 NRC grant to establish a Faculty Development Program at UTSA. The program supports two tenure-track engineering junior faculties in pioneering new research and an educational program related to the prevention and study of stress corrosion cracking (SCC) in nuclear facilities. With 99 aging nuclear power reactors across the U.S., the challenge of material and structural safety due to corrosion and fracture is a continuing concern for the nuclear industry.
The objective of the program is to support Brendy Rincon Troconis, assistant professor of mechanical engineering, and Arturo Montoya, assistant professor of civil and environmental engineering, in becoming leading scholars in the field of stress corrosion cracking. They will receive enrichment opportunities in the three areas most commonly used to evaluate faculty performance: research, teaching and service. They will also receive direct mentorship and support from Millwater and Heather Shipley, the Burzik Professor in Engineering and interim dean of UTSA's University College.
"Higher education is a competitive business, and it's important for faculty members and students alike to know that their university is invested in their success," said Millwater. "Strong development programs help UTSA attract and retain the nation's best scholars, and our students deserve to be trained by the nation's best teachers and researchers."
Rincon Troconis and Montoya will be provided the resources to launch several initiatives with UTSA focused on nuclear safety.
"I am extremely grateful that UTSA and the U.S. Nuclear Regulatory Commission have invested in our success as scholars and researchers," said Rincon Troconis, who joined UTSA in 2016 and is researching materials degradation. "The mentorship and support that we will receive will help immensely as we work to advance and build our capabilities on testing SCC and evaluating the risk of it in nuclear facilities at UTSA."
Beginning this fall, the two researchers will be tasked with: developing computer modeling and testing tools to lower the instances of stress corrosion cracking and determine the probability of future risk; creating an educational program for students that focuses on the causes of corrosion and how they apply to everyday nuclear safety issues; working with the Southwest Research Institute to present educational seminars pertaining engineering practice in SCC to students; and engaging with external agencies to ensure that their research findings can be incorporated into practice and policies at nuclear facilities.
"The NRC faculty development grant sets the stage for a collaborative, leading-edge research program that brings together several UTSA researchers with complementary expertise," said Montoya. "This grant will enable me to make valuable contributions to the safety of nuclear facilities, while enriching my professional development through collaborations with colleagues, students and industry leaders."
The NRC also awarded Shipley a $399,351 NRC grant to establish a fellowship program with the goal of creating a workforce pipeline for the nuclear industry. She will work with Montoya to design and begin implementation of the Civil and Environmental Engineering and Environmental Science (CEEES) Fellowship Program beginning this fall.
The overall objective of the UTSA CEEES Fellowship Program in Nuclear Safety is to broaden the participation of underrepresented graduate students in the areas of risk assessment and environmental protection pertinent to nuclear engineering by providing assistance, research opportunities, and professional development. In addition to establishing the fellowship program, Shipley and Montoya will create a Critical Thinking and Research Skills Workshop Series for students and provide students with hands-on research and professional development opportunities. 
"The CEEES Fellowship Program is a significant recognition of the need for training a diverse workforce that will eventually contribute to improvements in nuclear safety practices," said Shipley. "The program will enhance how we educate and engage underrepresented students in STEM fields and provide them the skills needed to succeed in the nuclear field."
The NRC reported that it had awarded 46 grants totaling $15 million to 35 academic institutions, including UTSA, in 2017. For more information, visit https://www.nrc.gov/about-nrc/grants/awards/2017. 
UTSA is ranked among the top 400 universities in the world and among the top 100 in the nation, according to Times Higher Education.