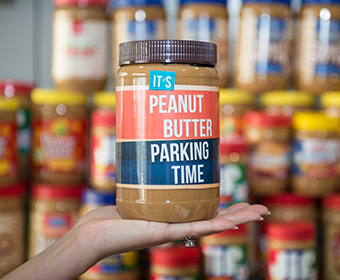 (August 28, 2017) -- It's peanut butter parking time at The University of Texas at San Antonio (UTSA).  Today, Campus Services launched its third annual Peanut Butter Parking Campaign in collaboration with the Student Government Association (SGA) and the San Antonio Food Bank. As in previous years, customers can pay eligible citations issued between Monday, August 28 and Friday, September 1 with a donation of peanut butter.
At the end of the campaign, all donations go to the San Antonio Food Bank to help fight hunger in Southwest Texas. Last year, Campus Services collected 768 pounds of peanut butter, saving students more than $9,200 in citations.
The San Antonio Food Bank lists peanut butter as one of the most needed items due to its long shelf life and high source of protein. With a recommended serving size of two tablespoons, or roughly one ounce per sandwich, a 40-ounce jar of peanut butter provides dozens of meals for families in need.
For those who would like to donate without a citation, Campus Services welcomes all peanut butter donations to help support the local community.
To submit your donation, bring your eligible citation and peanut butter payment to Campus Services in the Multidisciplinary Studies Building (MS 1.01.52) on the Main Campus or in the Frio Street Building (FS 1.506) on the Downtown Campus during standard business hours: 8 a.m. to 5 p.m., Monday through Friday.
The following citations are eligible for peanut butter payment:
Parking without a proper permit: $50
Peanut Butter Payment: 40 oz. or more


Parking without a permit: $100
Peanut Butter Payment: 80 oz. or more
All other citations are subject to standard payment and policies. Peanut butter payment must be received within 14 calendar days of the citation date; otherwise, standard payment is due along with the usual $10 late fee. Peanut butter payments are valid for one citation per customer. Appealing the citation forfeits the right to pay with peanut butter.