1. Birds up!
Roadrunners have been using this hand sign to show their UTSA pride for decades. Its origin is a mixture of myth and memory, but Roadrunners all over the world know exactly what to do when someone yells "Birds up!" Next time you hear "Birds up!" at a game, event or just in passing, toss up the Roadrunner hand signal to share your UTSA pride.
2. The Fountain of Luck
Sombrilla Fountain is easily the most iconic landmark at UTSA. It stands in the middle of Sombrilla Plaza and brings a certain beauty to the Main Campus' most popular hangout. But it's also known for its luck-bequeathing powers. Campus superstition says that if you touch the fountain wall during finals week, you're on track for good grades on your exams. It's a double-edged sword, though. There's also a legend that if you touch the wall any other time of the year, you're asking for bad luck.
3. ¡Viva Fiesta!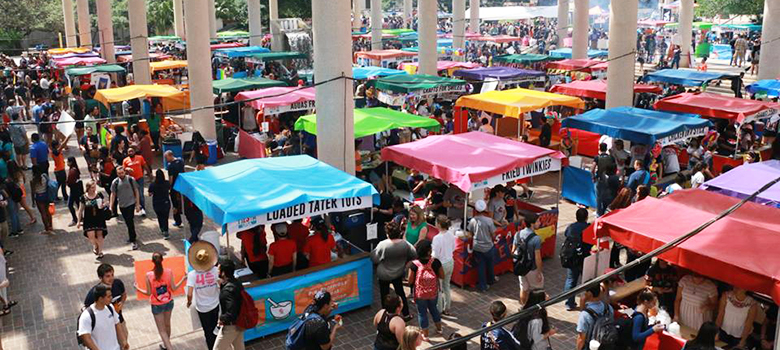 San Antonio's most cherished tradition is Fiesta—a weeks-long spring celebration of all things San Antonio. It shouldn't be any surprise then that UTSA's also a hotspot for Fiesta festivities. UTSA is home to Fiesta UTSA, a daylong fair that takes place in the Sombrilla and features food, music, medals, cascarones galore and special appearances by Fiesta Royalty. UTSA's also a mainstay at nearly every Fiesta parade—keep an eye out for the UTSA floats, and tweet as they go by.
4. Milagros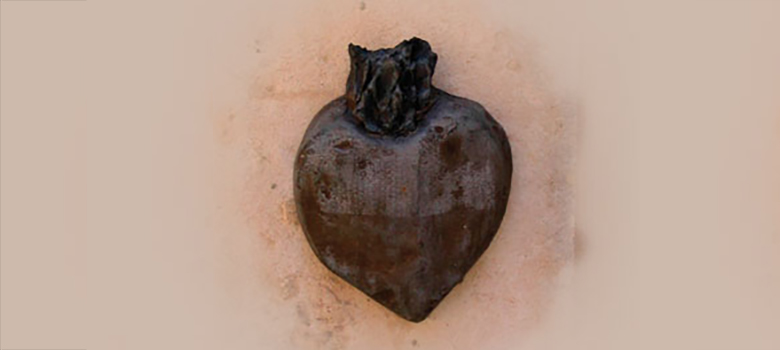 UTSA has heart! Thirty-one hearts, to be exact. Hidden in plain site on the facades of Downtown Campus buildings are 31 bronze hearts sculpted by alumna Diana Rodriguez Gil MFA '86 for her "Milagros" art project. The hearts, scattered across the grounds, are said to represent the love and dedication that characterizes the UTSA community. It's a common game for new 'Runners to explore the campus and try to find them all.
5. The Bridge of Love  
The bridge connecting the Arts and Flawn Sciences Buildings is more than just a way to get across Main Campus. It's also helped form love connections, giving it the name the Bridge of Love. Legend has it that in the mid-70s, this bridge was the site of an epic Roadrunner Love story.
Two students named Julie and Jason fell for each other but were separated when Jason was sent to war. When the pair were finally reunited, they met at the middle of that bridge. On Valentine's Day, UTSA students meet up on the bridge in a bid to find their own Jason or Julie.
6. Roadrunner Call
One of the newest UTSA traditions is the use of wooden castanets to simulate the sound of a Roadrunner's call. UTSA Roadrunners and friends often bring them to athletic games to show their school spirit by making some noise, and, occasionally, distract visiting teams during scoring opportunities. After all, this is Roadrunner Nation.