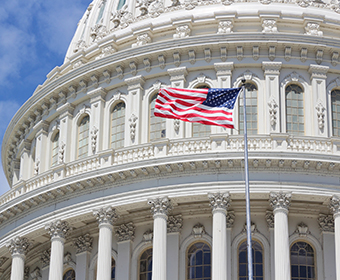 (Aug. 1, 2017) -- This fall semester, students in The University of Texas at San Antonio Department of Political Science and Geography will have access to a new space to delve into research related to social media and digital communications.
Bryan Gervais, assistant professor and the coordinator of the new Digital Politics Studio, said students will learn how big data can reveal trends related to human behavior.
"The goal is to teach students how to use cutting-edge technology to monitor and assess digital, political discourse," said Gervais.
Gervais has been working with students on similar projects but this studio will be a centralized place for them to collaborate on their research related to political communication moving forward.
One of the projects the students will continue working on involves analyzing the official Twitter accounts and tweets of members of Congress. UTSA students are paying close attention to the incivility of these tweets and the implications they have.
In the digital politics studio, students will use a machine-learning program to code the large data sets they collect.
"Political science students will learn how to collect big data, code and analyze it," said Gervais. "These are all practical skills they can use in their future careers in academia or the workforce."
Students will design and carry out experiments to expose people to political messages on social media and get their reactions.
"It's important for UTSA students to assess the messages, because these students are our future leaders and we want them to know how to effectively communicate and have a good impact on our political discourse," said Gervais. "Along with training students, our goal is to test methods for improving discourse. Step one is to get a hold of what the problem actually is and how pervasive it is."
Gervais said he has discussions with students about what constitutes good political discourse and what information should be shared and omitted on social media.
"We want to be a research studio that keeps up with all the changes in the digital space and sheds light on the current discourse in our country," said Gervais. "It's important to share ways to improve that discourse and get people to consider alternate viewpoints."
This fall, undergraduate and graduate students will begin working in the studio. It will be located in the Multidisciplinary Studies Building (4.03.08) on the UTSA Main Campus and will be funded, in part, by a congressional research grant sponsored by the Dirksen Congressional Center. The Dean's Office in the College of Liberal and Fine Arts is also providing financial assistance, including the sponsorship of a Digital Politics Research Fellowship for graduate students.
The UTSA Department of Political Science and Geography has four undergraduate programs and two graduate programs. The department's top-tier faculty includes 16 political scientists and four geographers, many of whom are nationally recognized for their research and teaching.
UTSA is ranked among the top 400 universities in the world and among the top 100 in the nation, according to Times Higher Education.