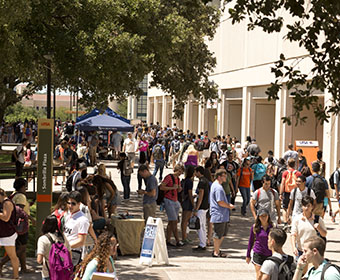 (Aug. 22, 2017) – Class is back in session for the 2017-18 academic year at UTSA. Nearly 31,000 start classes today, including 8,000 new freshmen and transfer students. The new Roadrunners comprise the largest incoming class in university history.
They also have strong academic credentials. In addition to having the highest average SAT scores of any incoming class in UTSA history, 20 percent of the students in the Class of 2021 were ranked in the top 10 percent of their high school graduating classes.
More than 165 degree programs are offered at UTSA. Among them, this fall marks the start of UTSA's first fully online degree program for undergraduate students. The B.B.A. in Cyber Security, offered through the College of Business, expands UTSA's nationally recognized offerings in cybersecurity, providing a new option for working professionals, post-bac students, and transfer students.
Additionally, this fall, UTSA's welcomes its first group of freshmen majoring in chemical engineering. The bachelor's program will prepare graduates for careers in a wide variety of industries, including oil and gas, biotechnology and pharmaceuticals as well as environmental and materials engineering. As students proceed through the program, they will have the option to specialize in petroleum and energy systems, environmental engineering, materials engineering, bioengineering or technology management.
Other new academic programs beginning this fall include undergraduate minors in jazz studies, music marketing, music technology, and politics and law, an undergraduate certificate in professional writing and rhetoric, and two graduate certificates: one in cloud computing and another in linguistics. Dozens of new courses also will be offered at UTSA this fall.
At the same time, UTSA's students, faculty and staff are going back to school, the Roadrunner community welcomes its sixth president. Taylor Eighmy begins at UTSA on September 1.
Eighmy joins UTSA from the University of Tennessee-Knoxville, where he has served as the vice chancellor for research and engagement. Trained as a civil and environmental engineer, Eighmy served as senior vice president for research at Texas Tech University, where he was instrumental in working with the community to realize National Research University status for Texas Tech. He also spent several years at the University of New Hampshire in a variety of roles, from professor to director of strategic initiatives to assistant vice president for research and interim vice president for research.
The new academic year also brings with it a new cohort of faculty. More than 30 professors share their diverse expertise in everything from physics to cybersecurity, account and biomedical engineering. They come to UTSA from a host of prestigious institutions, including Columbia University, Rice University and Cairo University in Egypt.
UTSA undergrads and graduate students will have the chance to work alongside these exciting new world-renowned researchers this fall to study some of the most pressing global issues of the 21st century. These types of opportunities are one of the many reasons why UTSA continues to be a destination for top ranked students across Texas and abroad. 
New and veteran students will also enjoy many new changes that will enhance campus life. Stylish new furniture fills Sombrilla Plaza. A new parking lot near the Roadrunner Café provides more spaces for the growing Roadrunner Nation.  Another parking lot next to the Business Building is almost complete. Construction is also underway on the new Science and Engineering Building. Over the summer, the first phase of the project began with mostly underground work. Mass excavation and deep foundation work is the current focus of construction at the site.
Also, remember that Roadrunner Days is in full swing. From now through Sunday, Aug. 27, UTSA is hosting a variety of back-to-school activities and events designed to start the new academic year off right.
The Student Success Series is from 2 p.m. to 5 p.m. today in the University Center Retama Auditorium (UC 2.02.02). These engaging sessions will explore student success topics including time and financial management.
Students will wrap up the first day of class at the President's BBQ on the Lawn from 5:30 to 7:30 p.m. on Tuesday, August 22. There's also the President's BBQ on the Plaza at the Downtown Campus from 4 to 6 p.m. on Wednesday, August 23.
UTSA is ranked among the top 400 universities in the world and among the top 100 in the nation, according to Times Higher Education.