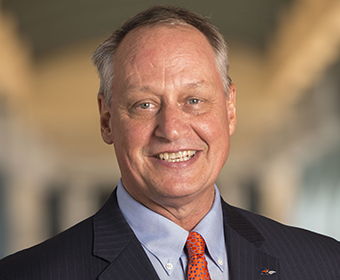 (Sept. 1, 2017) -- Today's the day. Dr. Taylor Eighmy is officially on the job as the sixth president of The University of Texas at San Antonio.
Eighmy is joining UTSA with a strong track record of advancing top-tier research universities through strategic government collaborations, public-private partnerships and community engagement.
"I believe that great cities are synonymous with great universities. This rings particularly true for UTSA and San Antonio," said Eighmy. "Though UTSA is a young university, it has advanced as a National Research University Fund-eligible and Carnegie Community-engaged institution and, today, it is poised for greatness. UTSA has all the ingredients to be the preeminent discovery and learning institution that shapes our city, our state and the nation."
Eighmy's career in higher education administration includes positions as the chief research officer at three public flagship research universities: the University of New Hampshire, Texas Tech University and, most recently, the University of Tennessee, Knoxville. In those roles, he has continuously championed external engagement, particularly community engagement.
While at the University of Tennessee, Eighmy and his colleagues at Oak Ridge National Laboratory directed efforts that resulted in the University of Tennessee's selection to lead the Institute for Advanced Composites Manufacturing Innovation, a $259 million public-private partnership supported by the U.S. Department of Energy.
Eighmy is also highly regarded for building critical student success programs, especially around experiential learning and undergraduate research.
UT System Regent Ernest Aliseda served on the presidential search advisory committee that recommended Eighmy's hire. He said the caliber of the candidates interviewed for UTSA's top job was exceptional and indicative of UT San Antonio's impressive – and growing – reputation.
"The selection of Taylor Eighmy proves that UT-San Antonio is a destination for our nation's top leaders in higher education," Aliseda said. "Eighmy will be unrelenting in his efforts to increase student success, faculty engagement and the national stature of UTSA. And his leadership style will be an ideal fit for a national leading city like San Antonio."
UT System Regent Sara Martinez Tucker added, "It has been gratifying to watch UT-San Antonio's ascent over the years, and my fellow regents and I believe that Dr. Eighmy is the right person to elevate the premium placed on student success and research prowess."
Eighmy is an environmental engineer with research interests in element speciation, environmental chemistry of leaching behavior, spectroscopic surface analysis, environmental microbiology and other areas.