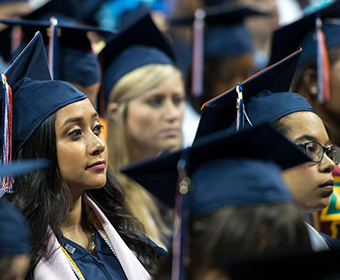 (Sept. 20, 2017) -- The University of Texas at San Antonio (UTSA) has announced the date for its Fall 2017 Commencement ceremonies. More than 4,000 UTSA students will be eligible to graduate in one of two ceremonies, scheduled on Sunday, Dec. 17 at the Alamodome.

UTSA's first fall Commencement ceremony begins at 10 a.m. and honors graduates from the College of Business, College of Engineering, the College of Public Policy and College of Sciences.

Students who are earning a degree from the College of Architecture, Construction and Planning, College of Liberal and Fine Arts, College of Education and Human Development and University College will cross the stage beginning at 4 p.m.

Fall 2017 graduates should plan to attend Grad Fest, a fun event offered to help Roadrunners prepare for graduation and Commencement. Aside from getting important information about commencement and life after UTSA, Grad Fest features prize giveaways and a fun selfie station to take pictures. UTSA students may attend one of two Grad Fest events:

Monday, Oct. 9, 10 a.m. - 7 p.m.
H-E-B University Center Ballroom (HUC 1.104)
UTSA Main Campus

Tuesday, Oct. 10, 2 p.m. - 6 p.m.
Buena Vista Street Building Meeting Assembly Room (BVB 1.338)
UTSA Downtown Campus

UTSA class rings are also available to graduates. One of UTSA's most unique traditions, the rings sleep in the Alamo the night before the Ring Ceremony, when students receive this lasting symbol in front of family, friends and university dignitaries. UTSA Ring ordering and pricing information can be found here.

UTSA is recognized as one of the top five young universities in the nation by Times Higher Education.