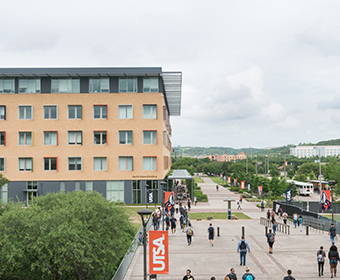 (Sept. 19, 2017) -- The University of Texas at San Antonio (UTSA) has once again been recognized as one of America's top universities for Hispanic student enrollment, according to Hispanic Outlook in Higher Education magazine.
UTSA was ranked No. 20 in the nation for the total number of Hispanics enrolled at a four-year school. According to the report, UTSA had more than 14,000 Hispanic students out of a total student body of nearly 29,000 enrolled in 2015.
UTSA was also ranked the nation's No. 8 institution for offering bachelor's degrees and No. 9 for master's degrees.
Each year, Hispanic Outlook in Higher Education also ranks schools who grant the most degrees to Hispanics in specific areas of study. UTSA made the top 10 in five areas:
Architecture (#2)
Business Management and Marketing (#4)
Education (#5)
Mathematics and Statistics (#9)
Psychology (#10)
UTSA offers more than 165 degree programs at the bachelor's, master's and doctoral levels in the colleges of Architecture, Construction and Planning; Business; Education and Human Development; Engineering; Liberal and Fine Arts; Public Policy; and Sciences as well as the Honors College, University College and Graduate School. Its research specialties include health, security, energy, sustainability, and human and social development.
More than 51 percent of students classify themselves as Hispanic at UTSA. Sixty-percent of UTSA's students come from groups underrepresented in higher education and nearly half will be the first in their families to earn a college degree.