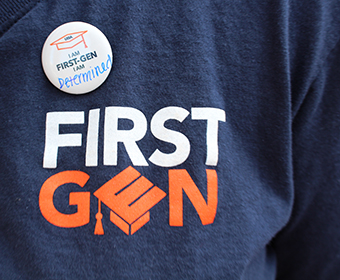 (Sept. 19, 2017) -- Nearly half of the Fall 2017 entering freshmen undergraduates enrolled at The University of Texas at San Antonio are first-generation students. As the first in their families on the path to completing a four-year degree, they're navigating new challenges, such as how to develop a four-year enrollment plan, identify research opportunities to expand their skillset and prepare for the critical interview that will help them land their first internships and jobs.
Looking at UTSA's student demographics is much like taking a snapshot of the nation in the future. More than half of UTSA students are Hispanic, and more than 11,000 are first-generation college students. The university draws 98 percent of its students from Texas, with the majority coming from Bexar County, Houston's Harris County and the Rio Grande Valley region. Nearly seventy percent are eligible for financial aid.
UTSA established the PIVOT for Academic Success program in Spring 2016 and one of its initiatives, First to Go and Graduate (F2G&G), recognizes first-generation students benefit from focused support. As part of that effort, more than 30 faculty, who were first-generation themselves, have stepped up to coach the university's first-generation students.
Through F2G&G, UTSA students are matched with a faculty coach and a peer mentor. Each mentee is placed in a group called a "familia", or family, where they meet with other first-generation students and faculty. In their familias, they identify, discuss and navigate the challenges and opportunities that come along with being the first in their families to proceed through college.
One of the UTSA faculty coaches working with first-generation students is Lucila Ek, a professor in the Department of Bicultural-Bilingual Studies. For nearly two years, Ek has been a faculty coach, working alongside a student mentor, sharing tips with mentees about time management and utilizing academic advising resources. Ek encourages first-generation students to always ask for help when in doubt.
"It's important to recognize the intelligence, strength and talent of first-generation students and support them," said Ek. "We want students to join this program and eventually become leaders who mentor other first-generation students."
Faculty coach Astrid Cardona, associate professor in the UTSA Department of Biology, said she enjoys getting to know the first-generation students she mentors and learning about their aspirations for the future.
Cardona was a first-generation student at the University of Antioquia, where she earned a bachelor's degree in biology. She recalls financial struggles, high expectations and the fear of failure. Cardona said she found an opportunity to discover her passion for science with the help of faculty members who made her feel like she belonged.
"It's important to provide first-generation students with a sense of belonging," said Cardona. "I work with students one-on-one to apply for research opportunities, build their CVs and if there are resources I can find for them, like textbooks or other materials, I am happy to share those with them."
In addition to developing a sense of belonging at UTSA, the more than 400 students involved in the F2G&G program learn how to apply for graduate school, conduct and present research and utilize resources to excel in their degree programs. The program has been extremely successful, with several students earning scholarship, fellowship and study abroad opportunities through the Mellon Humanities Pathways program and Frederick Douglass Global Fellowship, to name a few.
Nearly 60 UTSA faculty have shared they are first-gen and 30 will be serving as faculty coaches this academic year, with that number expected to rise as more continue to come forward expressing an interest in participating in the F2G&G program.
"We couldn't do this without the support of our faculty coaches who share their paths to success with students and inspire them to support one another, work hard, stay focused and pursue their academic goals. They understand first-hand how education can transform students' lives and futures," said Rhonda Gonzales, associate vice provost for strategic initiatives and PIVOT Director.
PIVOT for Academic Success initiative is supported by a $3.25 million Hispanic Serving Institution Title-V Collaborative Grant awarded to UTSA in 2015.
UTSA is recognized as one of the top five young universities in the nation by Times Higher Education.