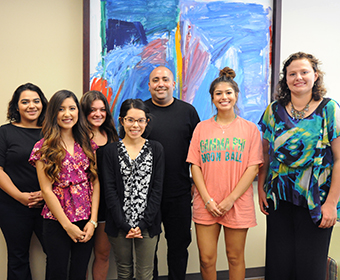 (Oct. 6, 2017) -- The University of Texas at San Antonio (UTSA) College of Education and Human Development recently established a new teacher residency model in partnership with the Northside Independent School District, the largest school district in the San Antonio area. The first cohort of students within the model began this fall.
"We are very excited about this new residency model with Northside ISD," said Margo DelliCarpini, dean of the College of Education and Human Development. "This model represents the type of innovative programming currently taking place in the college and the strong partnerships the college has maintained within the community."
The Teacher Residency Model 2.0 is designed so that UTSA students will complete their coursework, field experience, and clinical teaching in Northside ISD schools. Upon graduation and certification, they will be prepared to teach in Northside ISD.
"The residency model with Northside ISD provides the opportunity for a demonstration site that is an incubator of innovation and is contextually situated to meet the specific needs of the district and their students," said UTSA Professor and Associate Dean of Professional Preparation, Assessment, and Accreditation Belinda Flores.
The three-year program begins during the UTSA students' sophomore year in their foundational education and theory classes, and will continue through their final clinical teaching semester. This fall, Social Foundations of Education in a Diverse U.S. Society, a sophomore level course taught by Abraham DeLeon, was reimagined to fit within the context of Northside ISD.
"This program is another great opportunity to partner with UTSA," said Diana Ely, executive director of Teaching and Learning in Northside ISD. "We have a long history of working with UTSA in both teacher and leadership development."
The model will also help prepare educators to fill areas in critical need of teachers, such as bilingual education, special education, teaching English as a second language, mathematics, and science.
"We hope to capture top education candidates particularly in critical demand teaching areas, provide them with opportunities in our schools with outstanding teachers and leaders, and help develop them to be strong teachers in our district beginning on day one of their teaching assignment," said Ely.
The model is the result of a year of preparation and work by Flores and DelliCarpini, who evaluated scholarly research and the college's current educator preparation program to help them develop the new model in conjunction with Northside ISD.
"Over the past several years, there has been an ongoing critique of traditional educator preparation programs and their ability to prepare educators who have a measurable and positive effect on student learning and who help to close the achievement gap for culturally, economically, and linguistically diverse learners," said Flores. "At UTSA, we believe that the time has come to move from a philosophical discussion to identifying practices, like the Teacher Residency Model 2.0, that can radically change the way teachers are prepared, and how they are inducted, mentored, and professionalized in the field of education."
UTSA is recognized as one of the top five young universities in the nation by Times Higher Education.