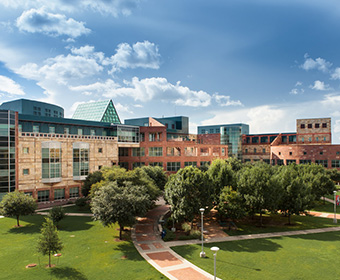 (Oct. 5, 2017) -- The University of Texas at San Antonio (UTSA) is preparing to host an event that commemorates the history and impact of its Downtown Campus and offers a glimpse toward its future. The program on Monday, Nov. 13 will feature panel presentations with notable guests and a keynote address by Julián Castro, former mayor of San Antonio and secretary of the U.S. Department of Housing and Urban Development. The event will culminate in an evening celebration. All components of the event are free and open to the public.
Twenty years ago this fall, UTSA opened the doors of its Downtown Campus. The establishment of a campus in the heart of the city signified the university's commitment to the community, bringing access to high quality college education and career advancement opportunities to diverse populations in the downtown area. In addition to honoring its past, the Downtown Campus anniversary program will explore future opportunities for UTSA to serve as a model urban-serving university and contributor to San Antonio's cultural and economic ecosystem.    
More details will be shared soon.
UTSA Downtown Campus 20th Anniversary Celebration
Monday, November 13, 2017
3 p.m. Keynote & Panels
6:30 p.m. Celebration