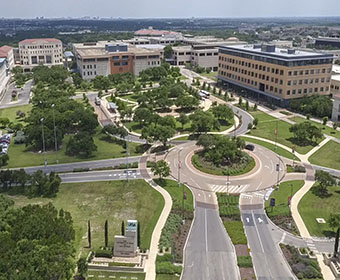 UTSA President Taylor Eighmy today outlined his vision for the university.
(Oct. 3, 2017) -- Dear Colleagues,
In my first month as president, I have spent a lot of time meeting with faculty, staff, students, administrators, alumni, donors, elected officials and local community members. While there are many more of you I look forward to meeting in the days ahead, I have quickly learned one thing about the UTSA family: you are incredibly passionate about this university and believe in its potential for excellence.
I believe we have the opportunity to make UTSA San Antonio's university of the future.
This notion stands on the shoulders of the Blueprint UTSA strategic plan and the exceptional work that so many of you contributed to its development. Blueprint UTSA provides a foundation as we look ahead through an aspirational lens that extends beyond Tier One designation.
Based on input from the conversations I've had so far, I have identified five themes that can position UTSA to tackle the grand challenges of today's world. I am eager to explore these further with you, to refine them and to develop a shared plan of action that we can all embrace:
Theme 1: UTSA will be a great multicultural discovery enterprise
As a culturally diverse university situated in the heart of a thriving urban ecosystem, UTSA is perfectly positioned to become the model of the next generation Hispanic-Serving Institution while becoming the discovery enterprise of choice.
We will continue to focus our efforts on the retention and academic success of first-generation and low-income students. At the same time, we will define and execute strategies leading to National Research University Fund (NRUF) eligibility and an R1 (highest research activity) classification from the Carnegie Commission as steps along our path to becoming a great discovery enterprise.
Transdisciplinary discovery and the establishment of corporate and foundation partnerships will allow us to leverage UTSA's scholarly impact to tackle complex challenges such as health disparities, income inequality and sustainable societies. I see this HSI-R1 excellence model as propelling UTSA to new levels of distinctiveness.
Theme 2: UTSA will be an exemplary urban-serving university of the future
Great cities need great universities and great universities need great cities. Active engagement with San Antonio's research and high-tech industries, K-12 school systems, health care providers, cultural establishments and governmental entities will pave the way, solidifying UTSA's role as a driver of San Antonio's rich and diverse cultural and economic ecosystem.
Demographically, San Antonio reflects what the United States, as a whole, will begin to look like in 20 years. UTSA is uniquely qualified to forecast the needs and challenges of our nation's changing population. For our students and faculty, San Antonio serves as a living laboratory, providing opportunities for experiential learning and developing the leaders of tomorrow. By leveraging our research enterprise and strategically located downtown campus, UTSA will serve as the city's anchor for cradle to career education, economic development and community engagement. Our mission is to help all San Antonians realize their dreams and attain prosperity.
Theme 3: UTSA will be world engaged
Our large, multicultural city serves as a portal to the Americas and the world. By building on our deep ties to Mexico and Latin America, we will bring some of the world's greatest minds to UTSA for the benefit of expanding knowledge and understanding. Our status as an HSI-R1 discovery enterprise will lead to global partnerships and learning opportunities for our students.
As we prepare students to be thoughtful, engaged and world-ready citizens, we will take advantage of San Antonio's unique multicultural strengths and international relationships. A UTSA education will provide our students with the intercultural knowledge they need to succeed as future leaders.
Accomplishing these goals requires an investment in our people and our processes. With that in mind, the last two themes are internally-focused for institutional effectiveness:
Theme 4: Cultivating the Excellence of our People
Universities can only achieve greatness through the cumulative intellectual talent of their faculty, staff and students. Claiming areas of distinction as an institution is contingent on the caliber of the individuals who work here. Our role as a driver of San Antonio's knowledge economy requires that we grow the talents of our people and continue to recruit world-class thought-leaders, researchers and teachers. In order to reflect the community we serve, we will especially emphasize increasing the diversity of our leadership and faculty.
Theme 5: Operational and Infrastructure Excellence
Our aspirations require effective and efficient resource utilization and infrastructure management. We will integrate innovative approaches and best practices to ensure our operational processes align with our goals. This will require pursuit of new revenue streams, adoption of performance based budget models, monetization of some of our real estate assets and exploration of ways to reduce the financial debt burden on our students.
As you can see, these themes are consistent with the foundational work of Blueprint UTSA. In the days ahead, I will be meeting with the Blueprint task force members, representatives from each college, the Faculty Senate, the Staff Council and the Student Government Association to seek additional input and refinement around these themes. The collective wisdom of our university community is a vital part of this process.
At the same time, we must build forward momentum. In the next few weeks, I'll be announcing the first set of presidential initiatives to address several of the highest priority strategies identified in the Blueprint, framed by these themes. These metrics-driven initiatives will focus on student success, strategic enrollment management and budgetary modeling. Each will have a task force with broad representation, and all three will be highly integrated.
I have great faith that, as we continue to work together, UTSA will become a beacon for the betterment of San Antonio and the world. Your contributions will continue to be indispensable in this effort.
Thank you for all you do for our students and for UTSA!
Best Regards,
Taylor Eighmy