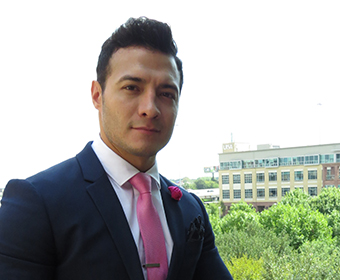 (Oct. 17, 2017) -- Marcos Mendoza, a graduate student in The University of Texas at San Antonio (UTSA) Criminal Justice and Criminology program, was selected as an AmeriCorps VISTA economic development intern, a one year paid internship  through the Alamo Area Council of Governments (AACOG). Mendoza will be implementing an economic development plan for impoverished communities in Frio and Medina Counties.
AACOG partners with the Economic Development Administration (EDA) and Corporation for National and Community Service (CNCS) to provide an economic development intern for the City of Pleasanton, in Atascosa County and other economically distressed communities.  The goal of the VISTA is to build capacity in rural, economically distressed communities to alleviate poverty and reduce unemployment.
"These are the opportunities that truly signify how obtaining an education through an outstanding university like UTSA does for individuals who inspire to be community leaders to serve others," Marcos exclaimed. "I am committed to give my very best in serving the communities I have been assigned to and will continue to represent UTSA with honor and pride."
Mendoza, a member of the National Criminal Justice Honor Society Alpha Phi Sigma, credits his prior military service and study abroad experience to prepare him for his role.  
"My military services in Iraq, police experience and the study abroad opportunity in Guadalajara, Mexico will aid me in being successful in my new position," he said. "I believe that this opportunity will provide me with the ability to impact people's lives and make a difference in their communities."   
Jennifer Alexander, an associate professor in the UTSA Department of Public Administration and one of Mendoza's instructors, inspired Marcos to take on many challenges. She says he will enrich the lives of others.
"As a first-generation U.S. citizen, Marcos Mendoza brings a unique vantage point to this opportunity," said Alexander. "His participation in a variety of public organizations has given him a sophisticated understanding of how they function. He has a solid grasp on his career goals and a quiet grace that will enlarge the lives of people who work with him."
Mendoza is thankful to his family for supporting him during his academic career.
"All my hard work and success would not have been possible if it had not been because of my family's support. My older brother Rene and mother Maria Cristina are the two most influential people in my life. My family is my inspiration," declared Mendoza. 
This is the second year in a row that a COPP student will intern as part of AACOG's economic development AmeriCorps VISTA program. 
Mendoza will work with community partners and agencies to identify economic development needs and resources for low-income communities in an effort to attract higher-paying jobs and other opportunities.  He will also have networking opportunities and a chance to meet city leaders.  Last year's VISTA Summer Kohler, a UTSA public administration student, compiled a business directory for the city of Pleasanton and gave business owners information about programs to help lower income populations.  She met elected officials, the Mayor of Pleasanton, and completed work for the Chamber of Commerce.