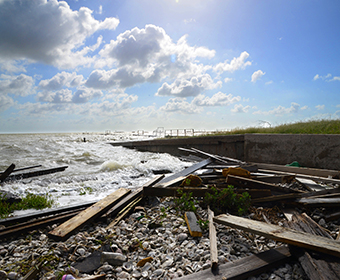 (Oct. 11, 2017) -- Vikram Kapoor, an assistant professor in The University of Texas at San Antonio Department of Civil and Environmental Engineering, has been awarded a Rapid Response Research (RAPID) grant from the National Science Foundation (NSF) to research microbial contaminants in southeast and south central Texas waterways following Hurricane Harvey.
The storm, which made landfall in Texas in late August, caused unprecedented damage to wastewater infrastructure in the affected areas. Two million pounds of contaminants were released into the environment. More than 800 wastewater treatment plants reported spills, and several oil refineries and chemical plants along with a dozen toxic waste sites were flooded or damaged.
"This research will provide urgent and critical information on microbiological water quality in the aftermath of a natural disaster," said Kapoor. "This project will directly impact multiple sectors of the water protection community like recreational water monitoring, drinking water utilities and beach closures and advisories by providing them with better means to identify fecal sources, evaluate human health risk and implement remediation strategies."
The National Science Foundation awards RAPID grants to researchers to support urgent projects such as quick-response studies following natural disasters. Kapoor was awarded $79,277 to study the mobilization and transport of microbial contaminants along Texas waterways. He began his research in early September with the help of UTSA graduate students Indrani Gupta and Tanvir Pasha and undergraduate student Adrianne Lopez.
"Our research seeks to understand the extent of wastewater releases during Hurricane Harvey and monitor human exposure to pathogens," Kapoor said. "The plan is to test our hypothesis that sewage overflows and storm water runoff from Harvey have released high levels of potentially harmful organisms into Texas waterways. These circumstances pose a serious risk to human and environmental health via waterborne disease outbreaks, deterioration of recreational and drinking water quality, and degradation of aquatic ecology. This could cause some dreadful long-term effects on Texas."
The release of these contaminants can pose a threat to humans in the areas affected by the storm, as seen by the two cases of bacterial infections that were traced back to the floodwaters from Hurricane Harvey, one of which ended in the death of a 77-year-old Kingwood, Texas woman.
"Our research looks to build a predictive framework for assessing wastewater contamination following severe flooding," said Kapoor. "The information we attain from this project will give the scientific community a deeper understanding of the transportation of pathogens that are released after flash floods. Hopefully, this will lead the country to be better prepared for a future catastrophic event."
One of the pathogens Kapoor will study is Vibrio vulnificus, which lives in the Gulf Coast waters and kills one in seven people with whom it comes into contact. The pathogen can lead to necrotizing fasciitis, a flesh-eating disease that can be deadly.
"Evaluating the presence, abundance and fate of these bacteria and pathogens can help solve this problem and hopefully help to stop outbreaks of illness in other affected areas when storms occur," Kapoor said.
UTSA is recognized as one of the top five young universities in the nation by Times Higher Education.