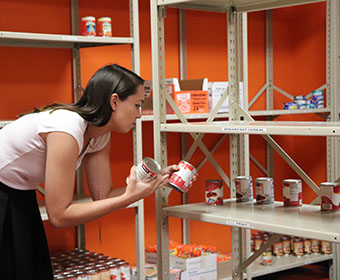 (Oct. 23, 2017) – With a gift of $3,000, local grocery retailer H-E-B is expanding the impact of the Roadrunner Pantry, an on-campus food bank that is helping ensure UTSA students have access to food to eat. The gift will help UTSA stock the pantry's shelves with food and other essentials.
"We are beyond grateful to H-E-B for their willingness to help our students," said Nikki Lee, senior associate director of events management in the University Center, who oversee the Roadrunner Pantry. "Without their help, we may not have been able to keep up with demand in light of increased enrollment and the many students needing relief because of Hurricane Harvey."
Since opening its doors in March 2017, the Roadrunner Pantry has distributed nearly 8,000 pounds of food and almost 2,500 nonfood items to UTSA students.
Last month, the pantry received a gift card from H-E-B to purchase food to stock the pantry. Previously, H-E-B has supported other university programs that have benefited undergraduate and graduate students in addition to faculty recruitment.
Additionally, the pantry raised $5,111 during a crowdfunding project this semester to commemorate National Hunger Action Month. Contributions from 102 donors—including students, faculty, staff and alumni—made the effort a success. Through a partnership with the San Antonio Food Bank, every one dollar donated can be turned into seven meals offered through the pantry. 
The Roadrunner Pantry is also building on campus partnerships, as well. Campus Services and UTSA Dining have committed to providing 1,800 meals at the Roadrunner Café for students in need.
One of the interns working with the Roadrunner Pantry this semester is Rosalynda Rodea, a senior in the coordinated program in dietetics at UTSA. She reviews thank you notes left by students utilizing the pantry. 
"Some of the stories I read are from students who don't know on Friday how they are going to eat over the weekend," said Rodea.
Jamilyn Keeton, a senior public administration major and a student team member at the pantry, echoes Rosalynda's message. 
"It's really hard to be food insecure, because we're students and that should be our first priority," Keeton said.
The Roadrunner Pantry relies on donations and community support to meet the student demand. Food donations can be dropped off at the Roadrunner Pantry Donation Station in the University Center across from the bookstore. The UTSA community can also sign up a department, organization or an event for a food drive here. Additionally, the pantry accepts monetary donations and welcomes volunteers.