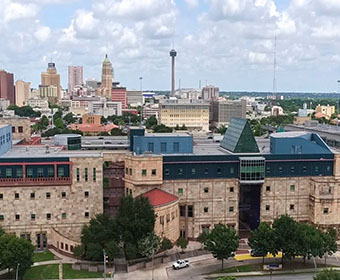 (Oct. 3, 2017) -- San Antonio is a city that is nearly 300 years old and this fall UTSA Honors College students are researching its history and documenting its rich cultural identity as the city's Tricentennial celebration approaches. 
John Phillip Santos said the idea for his Honors College seminar "Reading, writing and imagining/building San Antonio as a global metropolis" stemmed from the public art component of the San Pedro Creek Improvement Project. The UTSA professor is crafting mythic and historical narrations of the San Pedro Creek's story that will be inscribed in spaces along the creek. Santos also wrote an opera, titled Las Fundaciones de Béjar, that shares the story of San Pedro Creek's legacy in the city.
Throughout his fall semester course, Santos will present an overview of San Antonio's various histories and what San Antonio's Tricentennial represents. His goal is to have Honors College students think outside of the box to come up with a narrative about San Antonio's legacy.
"I ask students to think about how San Antonio's geography gives us a sense of why the city emerged here," said Santos, who is a distinguished scholar in Mestizo Cultural Studies in the Honors College.
During the seminar, 11 Honors College students are reading about urban theory, philosophical approaches to geography and the cultures that San Antonio represents.
"The course begins with a deep reflection on the origin of cities worldwide, then taking students through the evolution of the San Antonio as an Indigenous world, the transition to colonial San Antonio under new Spain, then under independent Mexico and its emergence into a modern American city," said Santos.
Influential poets, architects, urban planners, filmmakers and musicians from around San Antonio will guest speak to the class throughout the semester to provide their expertise on major milestones and developments in the city, such as the UNESCO World Heritage site designation.
Honors students will also have the opportunity to network with these leaders and hopefully gain some inspiration for their mid-term and final projects.
During the course, the UTSA students will also contribute to a civic engagement project related to San Antonio's Tricentennial celebration.
Santos was the first Latino Rhodes Scholar in the United States and was appointed to the UTSA Honors College as a University Distinguished Scholar in Mestizo Cultural Studies in 2010.
The UTSA Honors College enriches the lives of talented students through a rigorous academic curriculum and opportunities to participate in research and service-based learning. It also provides students with the chance to learn from and network with leaders in San Antonio's culturally rich and innovative environment.
UTSA is recognized as one of the top five young universities in the nation by Times Higher Education.