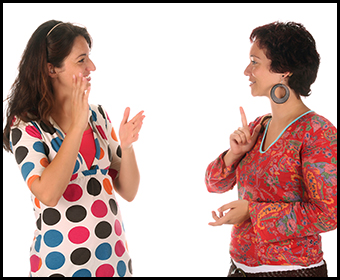 (Nov. 17, 2017) -- Educational psychology researchers from The University of Texas at San Antonio (UTSA) have received a grant for more than $147,000 from the U.S. Department of Education's Office of Special Education Programs for a new program that integrates educational psychology and deaf education.
In partnership with UT Health San Antonio, the Deaf Education and Educational Psychology (DEEP) Learning in Texas Project is a five-year program that will be used to train 12 new school psychologists that specialize in deaf education, and 27 teachers of the deaf in how to apply principles of educational psychology in their work with children.
"Both school psychology and deaf education have documented shortages over recent years, but there are even fewer professionals who possess competencies in both deaf education and school psychology," said Felicia Castro-Villarreal, associate professor in the UTSA Department of Educational Psychology and co-principal investigator of the grant. "The DEEP project seeks to address this professional need and also increase teacher quality by preparing teachers of the deaf and school psychologists who will provide effective, high-quality instruction and related services to children who are deaf or hard of hearing and their families."
Graduate students who participate in the project will complete cooperative course work in educational psychology and deaf education and hearing science at both UTSA and UT Health San Antonio. This course work will include hands-on, practical experiences through internships in deaf education settings.
"A collaborative and interdisciplinary grant of this nature affords students the training from experts across disciplines as well as a varied and well-rounded perspective that only collaborative systems can develop," said Castro-Villarreal. "Graduate students will learn how to work with students, families, schools and systems of those who are deaf and hard of hearing. This represents a population of students with special needs who typically receive little attention in school psychology training programs."
Through the DEEP project, the graduate students will also receive a tuition reimbursement and stipends for their participation. Upon completion of the program, the UTSA students will graduate with their master of arts in school psychology with a specialization in deaf education.
"This grant is one of several awarded to the department faculty this year and very much reflects our commitment to seeking external funding to support innovative projects that will have direct and immediate impacts on our students and the community," said Jeremy Sullivan, chair of the UTSA Department of Educational Psychology and principal investigator of the DEEP grant.
Faculty in the department will begin admitting their first fully-funded cohort of students through the DEEP grant in the fall of 2019. 
"It's an amazing achievement to have been awarded this grant with UT Health San Antonio for its impact on the community, our students and our respective programs," said Castro-Villarreal. "Our students will receive learning opportunities that many school psychology students simply don't have."
UTSA is ranked among the nation's top four young universities, according to Times Higher Education.