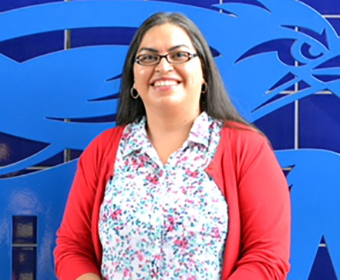 (Nov. 8, 2017) -- Meet Elizabeth Arevalo '01, '03. She was one of the first students to take classes at the UTSA Downtown Campus when it opened in the fall of 1997 and helped build the foundation for student life there.
Arevalo grew up just east of downtown San Antonio near the Alamodome. Her father, a prominent Eastside activist and business leader, got her involved in her community from the age of 12. Neither of her parents graduated from college and they wanted better for her, so they encouraged and supported her education.
>> Learn more about UTSA's first-generation family.
When the Downtown Campus opened, it offered some of UTSA's most popular degree programs as well as those that would be of interest to people living or working in the heart of the city. The interdisciplinary studies program, which prepares graduates to teach pre-K through eighth grade, was particularly appealing to Arevalo, whose life-long dream was to become a teacher.
"I got accepted into several universities but my parents wanted me to stay close to home and not rack up a lot of debt," she said. "With its new campus opening near my house, the teaching degree, and the scholarship I received, UTSA became the obvious choice for me. It took me less than 20 minutes to get from home to campus on one bus."
Arevalo has vivid memories of what it was like being one of the first 1,900 students at the Downtown Campus.
"We were grateful and excited to be a part of a new campus right in our backyards but many of us were first-generation college students and that first year was a struggle," she recalled.
One of the challenges was creating student life – the activities, involvement and a sense of belonging – outside of the academic experience.
"The Frio Street Building commons area is where the students would hang out between classes and all we had was one ping pong table."
Things began to change when she started a work-study job with the downtown Office of Student Activities. Staff members Evonn Hansen (now Short) and Michelle Montanio (now Rocha) guided and encouraged her and fellow students to make the campus what they wanted it to be – by planning events and activities and by advocating for more student services.
Arevalo's background in community building and advocating for change kicked in.
She and her friends planned multicultural events, Homecoming activities and the first NiUTSA – a pre-Fiesta celebration that would become a signature annual Downtown Campus tradition.
"We attended Student Government Association meetings, we asked questions, we surveyed the student body, we met with campus and university leaders, we built relationships and sought solutions," she said. "And then we started seeing results. More and more students began getting involved on campus, our food options went from burgers and fries to a full kitchen, and it began to feel like a real community."
After graduating with her B.A. in Interdisciplinary Studies, she went on to earn her master's degree at UTSA in bicultural-bilingual studies. Upon graduating, she achieved her dream of becoming a teacher and spent six years teaching second and third grade at Rayburn Elementary in Harlandale Independent School District.
Today, Arevalo continues to impact her community as an education liaison for Urban Strategies, Inc., a national non-profit that is partnering with United Way, the City of San Antonio and the San Antonio Housing Authority to administer a Choice Neighborhoods Implementation grant from the U.S. Department of Housing and Urban Development to revitalize the Wheatley Courts community on the city's Eastside.
To help improve literacy within the community, she recently connected neighborhood students with the Downtown Campus-based literacy education program Plaza de Lectura (The Reading Place). This is the same program in which she spent many hours as an undergraduate student helping youth learn how to read and write.
As a wife and mother, Arevalo knows that her educational accomplishments and community involvement will inspire her three young children and set them on a path to meet or exceed her own success.
On Monday, Nov. 13, Arevalo is looking forward to getting her friends back together and bringing her family to UTSA to celebrate the 20th anniversary of the Downtown Campus and the impact it has had on their lives.