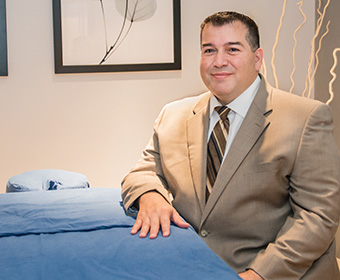 (Nov. 22, 2017) -- Meet Tim Gutierrez '15. This alumnus and graduate student in the UTSA Department of Anthropology is studying the relationship between manual therapy and stress and anxiety. It's a passion dear to his heart – not just through his research but in his job and daily life. Gutierrez is a licensed massage therapist. He's also visually impaired.
Born and raised in San Antonio, Gutierrez inherited a rare form of macular degeneration with a very early onset of roughly three or four years of age. 
"Facial features and other details are difficult to discern from any significant distance," Gutierrez said. "Fortunately, my vision has been stable for most of my life and, with such an early onset, I didn't have to adapt consciously to the vision loss."
Going to college still had its challenges though. Gutierrez started at a community college in 1991, but it didn't go as planned. The state of adaptive technology at the time made it difficult.
Postponing the dream of earning a degree, Gutierrez joined the workforce, got married and had a son. Then in 2009, his wife encouraged him to go back to school.
"She was adamant that I look into UTSA," Gutierrez recalled.
At the age of 36, this first-generation student returned to the classroom as a Roadrunner. He was accepted into the Honors College in 2010 and took classes at UTSA part-time, pursuing his Bachelor of Arts in anthropology.
"I was able to succeed at UTSA because of the leaps in adaptive technology," Gutierrez said. "I'm not scribbling notes. I'm primarily using voice apps. When I get home, I transcribe, listen to textbooks by audio and engage in seminars and classroom discussion by memory."
While at UTSA, Gutierrez joined the McNair Scholars Program, a competitive program that helped him develop his love for research.
"Through the Honors College at UTSA, I was accepted into the neuroscience imaging lab at UT Health Science Center at San Antonio," Gutierrez said. "I compared fMRI studies of how humans process varying forms of figurative language."
This project helped Gutierrez prepare for his graduate work on interpersonal touch and the neuroscientific lingo prevalent in the touch literature.
After graduating summa cum laude from UTSA in 2015, with a bachelor's degree in anthropology, Gutierrez decided to apply to graduate school.
"I applied only to UTSA, because I'm so familiar with the environment and the faculty," Gutierrez said. "Being legally blind, that's tremendously important."
Now a graduate student, Gutierrez says his professors have played a huge role in his academic success.
"The anthropology faculty is exceptional. They understand the nature of accessibility in a diverse setting, especially my advisor Jill Fleuriet," he said. "She's gone to great lengths to ensure that achieving my education is possible."
In addition to pursuing his master's in anthropology, Gutierrez works at Campus Rec as a massage therapist, a field that inspired his thesis proposal.
"Vision is the dominant modality of information-gathering in the majority of academic research, but Dr. Fleuriet encouraged me to consider the sense of touch as an investigative tool in anthropology," he said. "My thesis project examines the relationship between manual therapy and stress and anxiety, and much of the data gathered will be done so through palpation."
Gutierrez is now on track to earn his Master of Arts degree in anthropology in May 2018. He's already contemplating a Ph.D. project so he can apply to a doctoral program, preferably, he said, at UTSA.
"My achievements at UTSA have far surpassed my expectations," Gutierrez said. "This was only possible with the help of faculty that truly invest in the success of students, not only for each student's own sake but for the field itself and society at large."