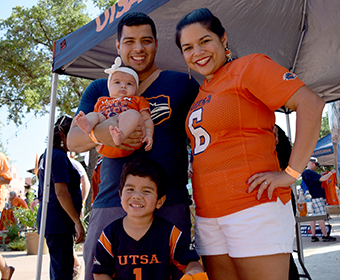 (Nov. 9, 2017) -- The UTSA Alumni Association and San Antonio Zoo are offering rowdy and wild savings on double memberships for one discounted rate to forever Roadrunners who join the Alumni Association or renew early.
A single annual membership to the Alumni Association and zoo is $45. Joint annual memberships, which include two alumni and two zoo memberships, are $75. Additional zoo memberships can be purchased for $28 per person for ages three and up. UTSA alumni who become a life member can purchase zoo memberships for $15 each. This offer ends Dec. 1.
"Joining the Alumni Association is the best way to engage with the UTSA community and support the university and its students," said Jana Kennelly, assistant vice president for alumni engagement and executive director of UTSA Alumni Association. "UTSA alumni, fans and families of our current students are able to join and support two great San Antonio institutions."
Becoming a member of the UTSA Alumni Association is a unique opportunity for Roadrunners and their family members and friends to make an impact in the lives of future and current students. Membership dues support programs that generate tens of thousands of dollars each year for UTSA student scholarships. Alumni members also benefit from many special perks and offers, like free admission to Roadrunner Station tailgates. They join a network of 119,000 UTSA alumni who are making a difference in the community and changing the world.
"This partnership wouldn't be possible without Tim Morrow '97, CEO of the San Antonio Zoo and UTSA Alumni Association life member," Kennelly added. "We are grateful for his generosity and support for his alma mater."