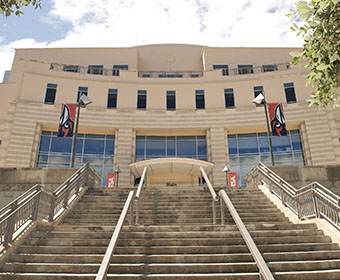 (Nov. 21, 2017) -- My fellow Roadrunners,
Like many of you, I was shocked and angry to hear about the unauthorized banner that was displayed last week from our University Center bridge.
At this time, we have no reason to believe that UTSA students were involved in this incident, and our police department is continuing their active investigation. Unfortunately, it is estimated that similar incidents have occurred at approximately 150 university and college campuses in more than 30 states over the past year. In most cases, these offensive acts are carried out in the middle of the night by individuals unaffiliated with the university community.
Our diverse community at UTSA includes a spectrum of political and ideological views, and providing an environment for free speech—civil discourse and freedom of expression—is a principle we must uphold.
That said, I want to make the following absolutely clear:
Groups that champion intolerance, bigotry and hatred are not welcome on this campus.
The notions perpetuated by hate groups are completely antithetical to my values. Personally and professionally, I oppose everything they represent. We must fight together to uphold UTSA's core values of integrity, inclusion and respect – especially when a group outside our community is working so hard to divide us.
I was proud to see that, over the last few days, students, faculty, staff, alumni and friends of the university—from across the ideological continuum—have loudly and unequivocally lifted their voices to say that white supremacy does not belong on our campus. They have affirmed that UTSA is a campus built on diversity, inclusion, respect and tolerance.
Please know we take these incidents seriously, and that the security and well-being of our students, faculty, and staff are our top priority. We will continue to investigate this incident, and to ensure that security measures are in place to keep our community safe. In addition to keeping you informed, I will continue advocate for our institutional core values.
At the same time, we must be mindful of the fact that hate groups are looking to provoke and divide us, all while drawing attention to themselves. We won't let them win. The Roadrunner Nation is strong, and all members of our familia have the right to learn, work and discover in an inclusive environment where equity is paramount.
We will not let hate define this learning community. Let's stand strong together.
#UTSAUnited