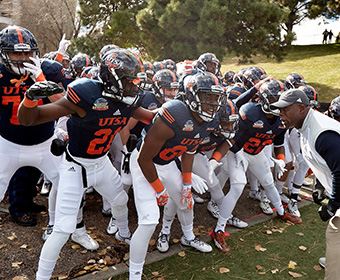 (Dec. 7, 2017) -- The University of Texas at San Antonio (UTSA) football program will be recognized by the American Football Coaches Association (AFCA) for its NCAA Graduation Success Rate (GSR) during the AFCA Convention in January.
UTSA reported an 82 percent GSR for the 2010-11 cohort and it will be recognized for graduating 75 percent or more of its football student-athletes at the AFCA's annual Honors Luncheon on Jan. 8, 2018, in Charlotte, N.C.
Since 2008, the criteria is based on the highest NCAA GSR with at least 15 students in the GSR cohort and a federal graduation rate of 75 percent or better. The GSR is based on a six-year graduation window for student-athletes. The GSR was developed by the NCAA as part of its academic reform initiative to more accurately assess the academic success of student-athletes. The GSR holds institutions accountable for transfer students, unlike the federal graduation rate. The GSR also accounts for mid-year enrollees.
Under GSR calculation, institutions are not penalized for outgoing transfer students who leave in good academic standing. These outgoing transfers are passed to the receiving institution's GSR cohort. By counting incoming transfer students and mid-year enrollees, the GSR increases the total number of student-athletes tracked for graduation by more than 37 percent.