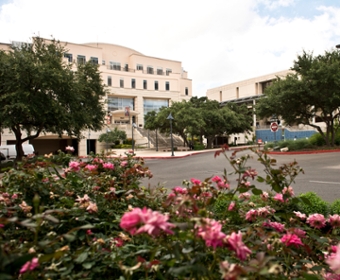 (Dec. 14, 2017) -- University of Texas at San Antonio (UTSA) President Taylor Eighmy today announced a nationwide search for a new Provost/Vice President for Academic Affairs to help lead UTSA's advancement as a preeminent discovery and learning institution.
The Provost reports directly to the President and is the university's chief academic officer, overseeing UTSA's nine colleges, the UTSA Graduate School and the university's 165 degree programs. The Provost is currently responsible for faculty support and academic accountability initiatives, institutional research, information technology, international programs, the UTSA Libraries and other student support initiatives.
In collaboration with President Eighmy, his senior leadership team and the college deans, the Provost's present charge includes fostering innovation; promoting excellence and integrity in UTSA's academic programs; supporting the recruitment, hiring and retention of faculty who are leaders in their fields; developing and implementing initiatives that support student success; promoting diversity, equity and inclusion; and facilitating the growth and academic standing of the university.
The next Provost will help lead the roll out of several major initiatives upcoming for UTSA, including the reimagining of the Downtown Campus, the development of new academic programs and institutes, the university's reaccreditation, and the implementation of new budget model.
"As the leader of our academic ecosystem, the Provost has significant influence in shaping our advancement as the very best multicultural discovery enterprise," said Eighmy. "We are uniquely poised as a Hispanic-thriving research university with great potential to address societal grand challenges here in San Antonio and nationally. The next Provost must help us realize this potential -- transforming UTSA into an institution that serves as a magnet for the nation's most talented faculty and students."
Eighmy has appointed a search committee comprised of leading UTSA scholars to conduct the nationwide search, and the university has engaged Wheless Partners to assist the committee. Wheless has proven experience placing leaders of diversity in top executive positions.
Search committee members are:
Margo DelliCarpini, Professor of Bicultural-Bilingual Studies, President's Distinguished Professor and Dean, College of Education and Human Development; Search Committee Chair
Hector Aguilar, Lecturer III, Department of Chemistry, College of Sciences; UTSA Academy of Distinguished Teaching Scholars
Nicole Beebe, Associate Professor of Information Systems and Cyber Security and Melvin Lachman Distinguished Professor in Entrepreneurship, College of Business
Rena Bizios, Professor of Biomedical Engineering and Lutcher Brown Endowed Chair, College of Engineering; UTSA Academy of Distinguished Researchers
Emily Bonner, Associate Professor of Curriculum and Instruction, College of Education and Human Development; Chair of the Faculty Senate
James Bray, Professor and Chair of Psychology, College of Liberal and Fine Arts
Kinitra Brooks, Associate Professor of English, College of Liberal and Fine Arts and Romo Endowed Chair, Honors College
Lisa Campos, Vice President for Athletics and Athletics Director
Lisa Firmin, Associate Provost for Veteran and Military Affairs
Elvira Jacquez, Executive Director of Operations, Office of the President; Search Committee Staff
Juliet Langman, Professor of Applied Linguistics and Associate Dean for Graduate Studies, College of Education and Human Development
Jose Lopez-Ribot, Professor and Margaret Batts Tobin Distinguished Chair in Biotechnology, College of Sciences; UTSA Academy of Distinguished Researchers
Raquel Marquez, Professor of Sociology and Associate Dean for Graduate Studies and Research, College of Liberal and Fine Arts
Chunjiang (CJ) Qian, Mary Lou Clarke Endowed Distinguished Professor for Leadership in Electrical Engineering and Department Chair, College of Engineering; UTSA Academy of Distinguished Teaching Scholars
Hazem Rashed-Ali, Associate Professor of Architecture, College of Architecture, Construction and Planning; UTSA Academy of Distinguished Teaching Scholars
Mariela Rodriguez, Professor of Educational Leadership and Policy Studies, College of Education and Human Development and Associate Dean, UTSA Graduate School
Marie Tillyer, Associate Professor and Assistant Chair of Criminal Justice, College of Public Policy
Rogelio Saenz, Professor of Demography, Mark G. Yudof Endowed Chair and Dean, College of Public Policy
Heather Shipley, Interim Vice Provost and Dean, University College; Professor of Civil Engineering and Burzik Professor in Engineering Design, College of Engineering; UTSA Academy of Distinguished Teaching Scholars
Marcus Thomas, President, Student Government Association
Floyd Wormley, Professor and Associate Dean for Research and Graduate Studies, College of Sciences
"The new Provost will play a vital role in creating a transformative, forward thinking future that enables growth, innovative partnerships and excellence in all of our educational, research and experiential learning endeavors," said Committee Chair Margo DelliCarpini. "The committee will work diligently to identify a diverse pool of highly qualified candidates in search of a Provost who has the vision, experience, energy, skills and collaborative leadership approach to think outside the box."
UTSA is a public urban-serving university specializing in health, cybersecurity, energy sustainability, education, and human and social development. With nearly 31,000 students, it is the largest university in the San Antonio metropolitan region.
Times Higher Education (THE) ranks UTSA one of the top four young universities in the nation. Bloomberg Businessweek ranks UTSA the top Hispanic Serving Institution in the nation. The university is home of the nation's top cybersecurity program according to a survey conducted by the Ponemon Institute. In 2015, it joined an elite group of U.S. universities to earn the Community Engagement Classification from the Carnegie Foundation for the Advancement of Teaching.
During the search process, Interim Provost and Vice President for Academic Affairs Mauli Agrawal will continue to serve in the Provost's role.
"I look forward to working very closely with Dr. Agrawal as he brings forward several important initiatives this spring to advance our strategic efforts," said Eighmy.
The university expects to identify candidates for Provost in early 2018 and complete the recruitment and hiring process by the end of Spring 2018.