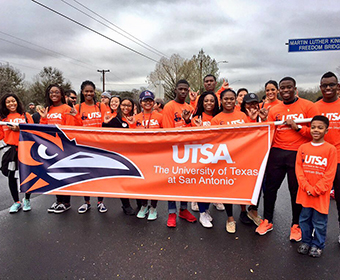 (Jan. 9, 2018) -- Roadrunner nation is coming together this month to commemorate Rev. Dr. Martin Luther King Jr.'s legacy through various campus and community events. The highlight will be when Roadrunners walk together at the city's 31st annual Martin Luther King, Jr. March.
The 2.75-mile march is scheduled at 10 a.m. on Monday, Jan. 15 and begins at Martin Luther King Jr. Academy, 3501 Martin Luther King Dr.
            >> See the MLK, Jr. March route details.
A Baptist minister, King led the civil rights movement in the United States in the 1950s and 1960s, encouraging nonviolent activism to inspire and effect peace and racial equality.
"The MLK Jr. March mirrors the UTSA Roadrunner Creed to participate in and contribute to the larger community through active engagement," said Karla Broadus, UTSA senior lecturer and director of the UTSA African American Studies program. "We at UTSA are to respect the differences in others and explore our dreams, as Dr. King encouraged."
As San Antonio's urban serving university, groups of UTSA faculty, staff and students participate annually in San Antonio's MLK Jr. March. Raven Douglas, UTSA Honors College senior majoring in political science from the Houston area, is proud and excited to march with her UTSA family this year.
"I consider the university's involvement a reflection of UTSA's commitment to inclusiveness, diversity and the overall betterment of our university, community, country and world," Douglas said. "Regardless of background, ethnicity, religion or creed, Dr. King's message of peace and unity has positively impacted the larger global community. Each of us are responsible for continuing his work in some way, and I encourage all Roadrunners to get involved."
New this year, the UTSA TRiO programs have been invited to join the UTSA delegation at the march. TRiO promotes cradle to career education by aiding high school and college students from disadvantaged backgrounds, including low-income students, first-generation college students and individuals with disabilities. This year, TRiO students will march with UTSA, including President Taylor Eighmy and his wife, Peggy. Additionally, more than 50 UTSA students who just returned from the sixth annual Civil Rights and Social Justice Experience, a five-day bus ride across the southern United States to see historical landmarks, will join the march as the final experience of their trip.
UTSA's participation in this year's MLK Jr. March was organized by the UTSA Staff Council in partnership with the university's African American Studies Program, Office of the President, Office of the Provost/Vice President for Academic Affairs, Center for Civic Engagement, the UTSA Police Dept., the Office of Information Technology, Student Government Association, Student Leadership Center and Campus Services and the Institute for P-20 Initiatives. Additionally, Broadus served on the City's MLK Jr. Scholarship Commission.
Celebrate Dr. King's legacy
Martin Luther King, Jr. March
Monday, Jan. 15, 10 a.m.
3501 MLK Dr., San Antonio
UTSA will offer free shuttle rides to those who register. Buses will leave Main Campus at 9 a.m. from Brackenridge Ave. Lot 1 in front of the Convocation Center and the Downtown Campus at 9:30 a.m. from the Durango Lot.
Singing for a New World: Raising Voices in the Americas
Monday, Jan 15, 11 a.m.
For the 2nd straight year, John Nix, UTSA music professor, is calling on all of America to sing "Amazing Grace" together at 11 a.m. on Martin Luther King Day. Singing for a New World: Raising Voices in the Americas is a grassroots effort that's grown nationwide in an effort to honor Dr. King's legacy and to spread a sense of community in the Americas. Nix encourages people to share their videos on social media, using the hashtag #AmericaSingsTogetherMLKDay2018.
Civil Rights and Social Justice Experience Reflection
Postponed
University Center, Denman Room (UC 2.01.28), Main Campus
Students who went on the Civil Rights and Social Justice Experience will share what they learned on the trip.
UTSA MLK, Jr. Scholarship

UTSA will offer a UTSA MLK Jr. Scholarship to a graduating high school senior who lists UTSA as their school of preference on the scholarship application offered by the City of San Antonio. The deadline for submitting an application is Feb. 23, 2018. This $2,000 scholarship is supported by the African American Studies Program housed in the College of Education and Human Development and the UTSA Office of the Provost. 
MLK Scholarship Workshop
Saturday, Jan. 20, 10 a.m. to 11:30 a.m.
Frio Street Building (FS 3.403), Downtown Campus
UTSA is hosting this workshop to assist students that need additional mentoring on how to complete the application process.
Dr. Martin Luther King, Jr. Lecture Series
Wednesday, Jan. 24, 11 a.m. to 12:30 p.m.
University Center, Retama Auditorium (UC 2.02.02), UTSA Main Campus
The UTSA African American Studies Program presents Dr. Ricky Jones, professor and chair of the Department of Pan-African studies at the University of Louisville. He will share his expertise on the impact of African American history on today's society.
Institute of Texan Cultures Programming
Buffalo Soldier Day
Sunday, Jan. 14, 12 p.m. to 4 p.m.
UTSA Institute of Texan Cultures, Hemisfair Campus
An official Dream Week event, Buffalo Soldier Day celebrates the African American soldiers who scouted and settled the Texas frontier. Hands-on opportunities include packing a ruck-sack for a frontier patrol, map reading, animal tracking and more.
The Will to Adorn
Now through Sunday, March 11
UTSA Institute of Texan Cultures, Hemisfair Campus
An official Dream Week exhibit, The Will to Adorn is a student-curated exhibit documenting the personal fashion, style and adornment of San Antonio's African American community, through interviews, artifacts, video and other media. The Will to Adorn: African American Dress and the Aesthetics of Identity," is administered by the Smithsonian Center for Folklife and Cultural Heritage.
The Chisholm Kid
Now through Sunday, April 1
UTSA Institute of Texan Cultures, Hemisfair Campus
An official Dream Week exhibit, The Chisholm Kid appeared from 1950 to 1954 in the Pittsburgh Courier, a storied black newspaper. In its pages, this Golden Age hero was portrayed as a positive black character equal to contemporaries including Buck Rogers, Dick Tracy, Flash Gordon and Hopalong Cassidy. Additional content from the UTSA Institute of Texan Cultures and Texas Historical Commission commemorates 150 years since some 5,000 to 9,000 Black cowboys began driving cattle along the Chisholm Trail.