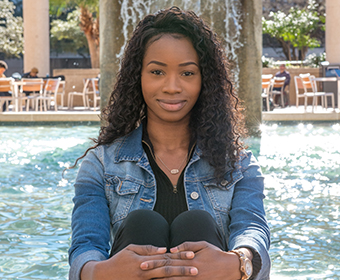 (Jan. 31, 2018) – A University of Texas at San Antonio (UTSA) geology student wants to educate the people in her home country, Zambia, on the importance of clean water. Kuzipa Kapayi will have that opportunity thanks to a Rotary Global Education Grant she won through Rotary District 5840 and the Fair Oaks Ranch club.
Kapayi learned about the competitive grant program last fall at a Fellowships and Scholarships Workshop at UTSA. The $30,000 grant will cover her first year of graduate school at a university outside the United States. Kapayi has chosen to attend Copperbelt University in Zambia where she will focus on hydrology, the study of water and how it interacts with the earth.
"I want to make an impact on the people there," Kapayi said. "I want to educate them on how to improve water and sanitation."
Kapayi was born and raised in Zambia until she moved to the United States with her family when she was 15. She says people who live in rural areas of Zambia get their water from dirty wells. Children there frequently spend their days walking, only to get water from streams that are often contaminated.
"My goal is to wake up in the morning and walk through rural areas in Zambia and see children going to school instead of gathering water for their families," Kapayi said. "They work so hard to get water that isn't good for them. If I could teach them how to fix the sanitation problem, I could make a difference."
"I was delighted when I realized that Kuzipa's interests fit so well with a program I have been promoting for many years now – a program that has taken UTSA graduates all over the world," said Ann Eisenberg, director of the UTSA Office of Scholar Development. "I would encourage other high-achieving students who want to know what special educational experiences might suit them to visit our office."

During Kapayi's time at UTSA, the transfer student has conducted research in paleoclimatology with Marina Suarez, UTSA assistant professor of geology. She also interned at an environmental consulting company where she learned about installing wells, an experience she heard about through the Geopaths program at UTSA.
"The faculty here have been very helpful throughout my journey," Kapayi said. "They've advised me on so many resources to help me in my future career."
Kapayi graduates from UTSA this May with her bachelor of science in geology. She begins a master's program in Natural Resources Management at Copperbelt in fall 2018.
"The knowledge I've gained at UTSA has been the backbone of my passion to pursue geology and help the people of Zambia," Kapayi said. "As a student at UTSA, my degree will help me further my education, show Zambians what I've learned at UTSA and be a proud Roadrunner."