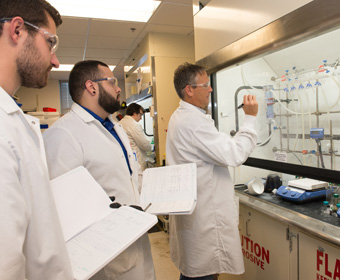 (Jan. 23, 2018) -- Stanton McHardy is a professor of research, an associate professor of chemistry and the director the UTSA Center for Innovative Drug Discovery (CIDD). The CIDD is a joint venture between UTSA and UT Health San Antonio. It provides a diverse array of core facilities and expertise to facilitate the translation of basic scientific discoveries into tangible pre-clinical candidate drugs that can be further developed into clinical therapies for human disease. McHardy recently recipieved a nearly $4.6 million grant to design better, more effective cancer drugs through small molecule drug discovery and to provide opportunities to develop new therapeutic cancer treatment programs.
We sat down with Dr. McHardy this week to learn about new developments in drug discovery.
How would you describe your current research? Why did you decide to focus on this topic?
Our CIDD collaborative medicinal chemistry strategy is focused on the translation of small molecules into tangible drug candidates that can be advanced toward clinical studies. Medicinal chemistry is a core discipline in the drug discovery process and is applicable across all therapeutic areas. This allows the CIDD to create numerous productive research collaborations in areas such as cancer, infectious disease and diabetes, as well as psychotherapeutics and neurodegenerative central nervous system (CNS) disorders.
Our strategy has allowed us to collaborate with the top researchers in the state and nation to build multi-disciplinary expertise and strengthen programs, which in turn has added value to the UTSA mission through successful grant funding and valuable research experience for UTSA students at both the undergraduate and graduate level.
What is one experience as a professor or researcher that has inspired you?
Having lost family members to cancer and central nervous system disorders inspires me every day.
How has UTSA changed since you joined its community? 
The UTSA mission of growing into a Carnegie R1-status research institution has become more focused in the identification of areas of strength/growth opportunities and key faculty hires.
What advice do you have for a student considering joining your field?
Study extremely hard for organic chemistry, practice it and become proficient at it. Organic chemistry concepts form the foundation for synthesis and medicinal chemistry research. You cannot become a synthetic or medicinal chemist without a strong working knowledge of organic chemistry.
What is the most important thing going on in your field that no one is talking about? 
It is talked about but is rapidly growing: small molecule drug combinations with immunotherapy approaches. As an example, researchers have found that novel epigenetic drugs can prime lung cancer cells to respond better to immunotherapy approaches.
What makes the CIDD unique?
The CIDD brings two key resources and capabilities not normally found in the academic environment: medicinal chemistry and high throughput in vitro screening. These two resources allow scientists from different disciplines, such as chemistry and biology, to work together, creating a synergistic strategy to address a drug discovery unmet medical need. Furthermore, these multi-disciplinary collaborations create a strong research platform that has ultimately increased the competitiveness of state and federal extramural grant applications.
Do you have a favorite quote?
Imagination is more important than knowledge. Knowledge is limited. Imagination encircles the world. – Albert Einstein