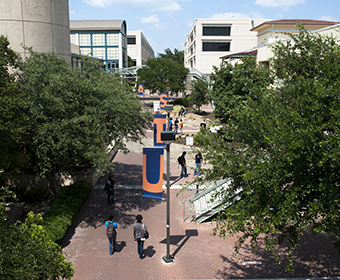 (Feb. 20, 2018) -- Baccalaureate programs in medical humanities are rapidly growing in popularity across the United States. With 613 currently enrolled students, the Medical Humanities program at The University of Texas at San Antonio (UTSA) is one of the largest undergraduate degree programs of its kind in the nation.
UTSA's interdisciplinary B.A. in Medical Humanities draws on the natural sciences, social sciences, humanities and arts. The major has a pre-medicine concentration and a health careers concentration to prepare students for a wide variety of health-related occupations.
"The social science and humanities component of our curriculum provides students with a broader understanding of the ways economic and psychosocial factors influence health," said Abraham Graber, assistant professor and director of the UTSA Medical Humanities program. "It also gives students opportunities to practice communicating about health care."
Graber says the combination of knowledge and skills offered by the undergraduate program are allowing UTSA alumni to effectively and empathetically communicate with patients, physicians, nurses, social workers and hospital administrators.
Students graduate with a thorough understanding of the history of medicine, the importance of the relationship between a physician and patient and the need for strong social competence in health care. They also learn how to interpret human factors related to illness and wellness such as the biology of aging, the psychology of health, the social context of drug use, health care systems, medical sociology and more. 
Graber says students in this unique UTSA program are positioned to pursue a wide variety of careers in health care—and related fields such as health administration, medicine, dentistry, medical sales and pharmacy.
Parnaz Daghighi, a UTSA junior in the medical humanities degree program and founder of the Medical Humanities Student Organization, says the program has made her marketable while allowing her to learn about health-related topics that interest her.
"As an applicant for medical school, this program will help me stand out, because I can speak about things other applicants can't address," said Daghighi. "It's the norm to focus on hard sciences but learning about social sciences through this degree program enables me to learn about topics such as ethics and medical sociology that will help me work with patients from different backgrounds."
Daghighi said the program helped her gain admittance to the competitive Joint Admission Medical Program (JAMP) which helps economically disadvantaged Texas students pursuing a career in medicine. Students admitted to the JAMP program, funded by the Texas Higher Education Coordinating Board, are guaranteed admission to participating medical schools in Texas.
"Technical skills are only a part of what it takes to be a successful health care provider," said Graber. "By helping students empathize with patients and recognize economic and psychosocial variables relevant to health, we're providing students with the skills they need to address the lived realities of their patients."
COLFA is one of UTSA's most academically diverse colleges and largest with nearly 6,500 students in 11 departments in the arts, humanities and social sciences. COLFA offers 38 degree programs, including doctorates in anthropology, psychology and english.
The University of Texas at San Antonio (UTSA) is a public urban serving university specializing in health, cybersecurity, energy sustainability, and human and social development. With nearly 31,000 students, it is the largest university in the San Antonio metropolitan region. UTSA advances knowledge through research and discovery, teaching and learning, community engagement and public service. The university embraces multicultural traditions and serves as a center for intellectual and creative resources as well as a catalyst for socioeconomic development and the commercialization of intellectual property—for Texas, the nation and the world.
UTSA is ranked among the top four universities in the nation under 50 years old, according to Times Higher Education.