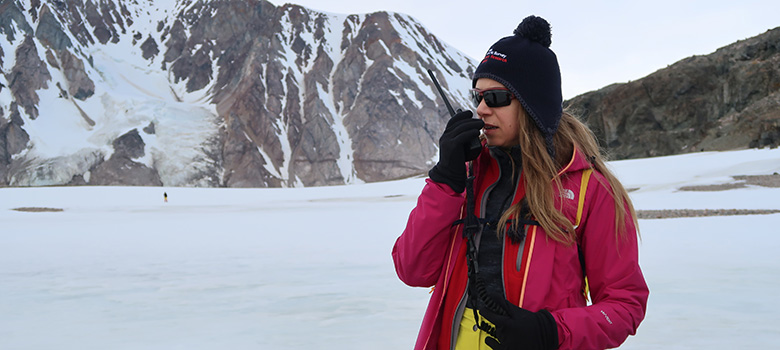 (March 14, 2017) -- Meet Burcu Ozsoy '10. She's the director of the Istanbul Technical University Polar Research Center (PolReC), the first Turkish polar research center.
A native of Turkey, Ozsoy was living in San Antonio and looking for an advisor to help her continue her passion for geological research. As an undergraduate student, she studied surveying engineering and used satellite images to detect oil spills on the surface of the ocean.
She soon found her way to the UTSA Department of Geological Sciences, where she met with Professor Hongjie Xie. She e-mailed him after discovering he had experience in the type of research she was interested in pursuing.
"I was very lucky to meet with Dr. Xie," Ozsoy said. "He was using satellite images to do two things: observe the surface of Mars and study sea ice in Antarctica. I immediately jumped at the opportunity to study Antarctica, and I'm still quite happy with my choice many years later."
As a Ph.D. student, Ozsoy worked closely with Xie and Stephen Ackley, UTSA research associate professor of earth and environmental sciences, in their Laboratory for Remote Sensing and Geoinformatics, which focuses on sea ice, water resources and the remote sensing of the Mars surface.
"I have amazing memories being a student in that lab," Ozsoy said. "Dr. Xie and Dr. Ackley created a strong, close-knit team that I loved studying with. I owe them all of my knowledge."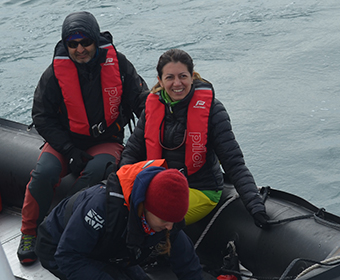 As a student, Ozsoy joined Xie on a scientific expedition to Antarctica on a Swedish icebreaker as part of a research project to study sea ice. The voyage had a deep impact on Ozsoy, who was inspired to continue Antarctic research after her graduation from UTSA in 2010.
"The chance to have that experience as a young scientist was transformative," she said.
After her graduation, Ozsoy returned to Turkey and worked initially as a lecturer at Istanbul Technical University (ITU) but was soon promoted to assistant professor.
"I enjoyed giving lectures about statistics, computer science and marine environmental management," she said. "But my heart was still beating for Antarctica."
The UTSA alumna continued her Antarctic research at ITU and, soon after her promotion, began working to establish a polar research center.
"It took two years of dedication," she said. "In 2015, the ITU Polar Research Center was officially established."

The center's mission is to research the future of the Antarctic, raise public awareness of the region, and foster intercollegiate and international research collaboration. Since its founding, Ozsoy has served as the director of the center and has been successful in securing increasing amounts of funding to advance its mission.
PolReC regularly conducts scientific expeditions to Antarctica. Ozsoy departed with her team for the most recent mission on February 25 and has plans to return in April. She has also taken inspiration from her UTSA mentors by creating opportunities for young scientists to study in Antarctica.
"I'm glad to give these chances to researchers. I was given the opportunity once and it changed my whole life," Ozsoy said. "When I look back, I'm grateful for my meeting with Dr. Xie at UTSA. I feel lucky for meeting Dr. Ackley and being able to lose myself in this big, beautiful continent called Antarctica. I recommend that the younger generation trust themselves and be encouraged to step forward and be adventurous. They will not regret it. I'm certain."