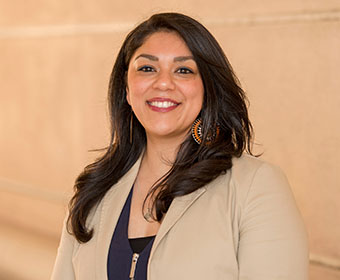 (March 12, 2018) -- Vanessa Sansone, an assistant professor of higher education in the Department of Educational Leadership and Policy Studies at The University of Texas at San Antonio (UTSA), focuses on research aimed to advance equity and success for diverse student populations in higher education.
Sansone is a first-generation college student who grew up on the eastside of San Antonio. Her experiences living in a low-income part of town drive her commitment to advance social justice for marginalized students in higher education.
>> Learn more about UTSA's first-generation family.
We recently asked Sansone to provide us with an update about her work.
Tell us about your current research.
In my scholarship, I have focused on issues related to student retention, higher education access, student success and how institutional, state and national policies impact these issues. I am especially interested in exploring and addressing how inequity structures the experiences and outcomes for diverse student populations and institutions. Specifically, my research interests focus on college affordability, Hispanic Serving Institutions, governance structures and postsecondary student trajectories, especially among Latinas/os, student veterans and first-generation college students.
Right now, I am focusing on a piece that examines how working in college influences the experiences and outcomes of first-generation Latina/o students. This work began in collaboration with Dr. Anne-Marie Nunez at The Ohio State University and led to a co-authored publication in The Review of Higher Education, a top-tier journal in our field.
Together, we are examining how work contributes to professional identities and work-based outcomes that extend beyond economic gains for first-generation Latina/o students who are majoring in STEM. I recently attended an invited lecture at the University of Wisconsin-Madison's Center for Research on Workforce Transition where I spoke to UW-Madison faculty, staff and students about this publication and area of my research.
What impact do you hope your research will have?
My main aim is to conduct research that positively impacts higher education policy across all levels, i.e. institutional, state and federal. And that this in turn increases the college access, experiences and attainment of students from underrepresented backgrounds.
In my current research about working college students, there is a timeliness in terms of policy. Federal government discussions are happening right now about cutting funding for the federal work-study program. The findings from my research counter negative narratives about work-study programs and demonstrate how work can positively influence success for less privileged students. I intend to my research to aid in policy reform.
What's the most important thing going on in your field that no one is talking about right now?
The problem we face is that there are far too few talking about several important issues. But one salient issue that I think we should be talking more about in higher education is the Academy functioning in an era of neoliberalism. Forms of neoliberalism can be seen when a higher education organization is centered in audit cultures, merit regimes and mission creep, and not on the needs, experiences and successes of its underrepresented student population.
To me, this is especially troubling, given that ethnic minority demographics are rising across the United States. This approach creates very narrowed definition of what "success" means. But it is important to recognize that success can happen in many non-dominant ways, especially at open access institutions that are serving large populations of minority students.
For example, at UTSA, we are serving large populations of underrepresented students in ways that are not acknowledged by static metrics. It is my hope that one day we will be but, in the meantime, we as an organization should look to taking control of our own narrative and celebrate our successes beyond these metrics, because we have many.
In fact, I think that what we do here at UTSA can serve as a model that other institutions across the U.S. can learn from, especially in terms of effectively serving students from minoritized backgrounds.
How has your personal journey influenced your work?
Growing up in a poverty-stricken area of inner city San Antonio, Texas to a low-income family, and attending a college-prep high school on an affluent side of town, I was reminded each day of how unequal the playing field is for many youths in terms of access to equitable education and social mobility.
In my own experiences navigating college as an undergraduate, the road to a degree was often challenging. Mostly the challenge was unrelated to academic preparation, and instead was due to a lack of mentorship, support and advocacy for my needs that did not reflect the larger population of affluent students with parents that attended college.
I can recall of a time when I thought I would have to withdraw from college so that I could get a full-time job and help my family pay for bills. These experiences have greatly shaped the way that I think about my research. In fact, I often reflect on my experiences when conducting research to see where assumptions or potential gaps lie. Due to the personal connection I have with my research, I tend to be very passionate about my research because many times I see myself in the students that I am studying.
What advice would you give first-generation students as they pursue their academic goals?
The first thing that I would say to first-generation students is to recognize that you are meant to be here. Yes, it will be hard along the way, but you can do this. I also advise students to not be afraid to ask questions and ask for help. When something is unclear or is unknown to you, feel free to reach out to a faculty member, advisor and/or staff member for help. I also encourage students to ask multiple sources.
Within the same vein, first-generation students should seek out a mentor. Mentorship has been shown time and time again to positively influence student success. In fact, at UTSA we have a wonderful first-generation student-faculty member mentorship program called First 2 Go and Graduate (F2G&G). I recently joined the F2G&G program as a faculty mentor and am currently looking for undergraduate students to mentor. I encourage students to reach out to me if they're interested.
Lastly, do not let the fear of failure hold you back in your educational pursuits. To me, failing can be a good thing, because it is in failing that there is opportunity for learning and growth. Growth that with time makes you more resilient to failure. In my approach to addressing my fear of failure and feeling like an imposture, I always say to myself, "What have I got to lose? If they tell me 'no', all I can do is try again."
I would advise first-generation students to engage with their peers. This engagement can happen in the classroom, through work-study, with a campus organization or with a study group. To me this is important, because some of the best learning is gained from student peers. Lastly, choose a work position that is flexible with your school schedule and offers an opportunity for learning to occur. Forms of work that have been shown in my research to be beneficial to first-generation college students are either work positions that are a) on-campus; b) tied to your major; or c) meaningful to you in some way.
What do you enjoy doing when you have some free time?
When I have free time, I enjoy hanging out with my partner, Greg Sansone, who works at USAA and lectures in the Multidisciplinary Studies program at UTSA, and our two fur-babies. I also like to spend time BBQing with my extended family who are located here in San Antonio.