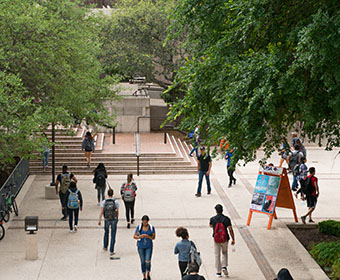 (April 4, 2018) -- The UTSA Campus Climate Team today launched a new website that will serve as a single comprehensive source for accurate information about bias incidents targeting the university community. Students, faculty and staff are encouraged to use the website's online form to report bias incidents they observe.
            >> View the Campus Climate website.
Bias incidents target individuals and groups on the basis of protected characteristic(s) such as race, color, ethnicity, national origin, sex, gender identity, sexual orientation, disability, age, religion, political views and affiliations. They take many forms including, but not limited to, unauthorized postings on campus, interpersonal incidents or virtual incidents such as social media postings.
The UTSA Campus Climate Team was formed in November to protect members of the university community from being targeted for their beliefs or backgrounds while supporting the freedoms of speech, expression and assembly. The group monitors, reports and responds to incidents that occur on campus in violation of the university's freedom of expression policies.
It also actively notifies the campus community of situations that have the potential to pose a concern to campus safety while keeping in mind that outside groups often have a goal of gaining publicity by posting unauthorized materials on a university campus.
Recently, the Campus Climate Team addressed three bias incidents on campus.
When unauthorized flyers were posted by the Horowitz Freedom Center on March 21, the flyers were promptly removed and investigated. A review of camera footage identified a non-affiliated person responsible for posting the flyers, and a criminal trespass warning was subsequently issued. Violation of the warning could lead to arrest.
Likewise, the Campus Climate Team was actively involved in removing a group of unauthorized postings related to Patriot Front and found in various locations across the Main Campus on April 3.
Additional flyers were identified and removed today.
As active bystanders, member of the campus community are encouraged to report bias incidents online. The Campus Climate website offers an anonymous reporting option for individuals who want to protect their identity. Once submitted, the reports will go to members of the group for assessment and response in addition to being recorded on the new website.
UTSA is home to Beaks Up, Speak Up, a bystander program that encourages members of the university community to serve as active bystanders who recognize a potentially harmful situation, choose to respond, and act in a way that positively influences the outcome of the situation.
"Through Beaks Up, Speak Up, members of the university community are taking an active role in upholding the values of the university community," said Kevin Price, UTSA associate vice president of Student Life. "The Campus Climate website will provide bystanders with another way to report bias incidents so these incidents can be promptly and systematically addressed by the university."