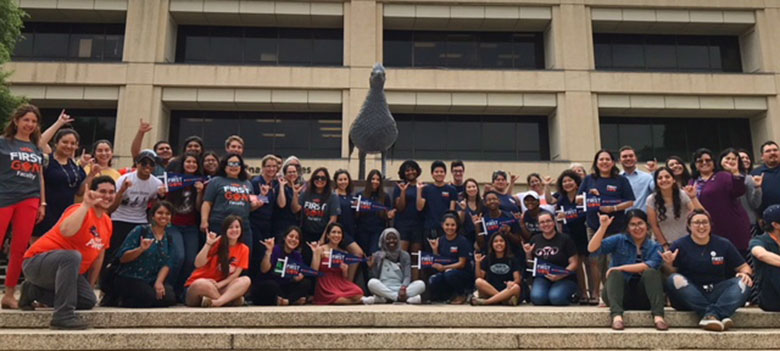 (April 4, 2018) – It's easy for first-generation students at The University of Texas at San Antonio to feel a sense of belonging. The more than 11,000 Roadrunners who are the first in their families striving to earn a bachelor's degree are surrounded by support. That is evident this week as UTSA hosts the First-Gen Fest. The second annual festival has grown from one day to six with a series of events on the Main and Downtown Campuses.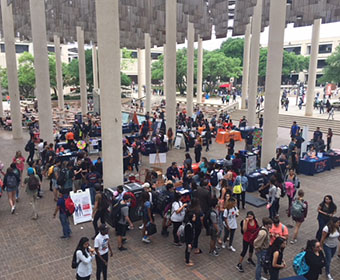 Hundreds of first-gen students, faculty and staff filled the Sombrilla on Tuesday for the First-Gen Fair. More than two dozen UTSA offices and organizations provided information tailored to first-gen students.
Aldo Sepulveda is a first-generation Roadrunner studying physics. The San Antonio native benefited from the First to Go and Graduate Program when he arrived at UTSA. Now he's a peer mentor with the same program.
"Having these programs for first-gens meant a lot to me, and now I can use my experiences to give back and be there for other students," Sepulveda said.
At the fair, students also enjoyed playing games, eating, listening to music and socializing with fellow Roadrunners. T-shirts were available for all UTSA first-gens so they can show off their pride.
At the end of the fair, first-gen students, faculty and staff came together at the Roadrunner Statue for a group photo. Patricia Sánchez, professor and department chair in the UTSA Department of Bicultural-Bilingual Studies and first-generation faculty, was part of the celebration.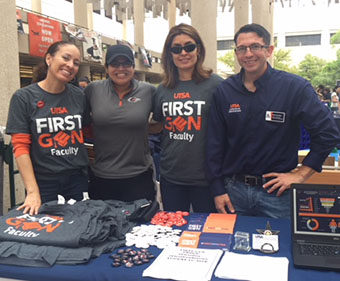 "When I was in college, I didn't even know the term 'first-generation student.' I had to figure the college process out myself," Sánchez said. "It's great to know there are so many people at UTSA dedicated to the success of first-gens."
First-generation staff member and UTSA alumnus Brandon Cruz '16 contributes to cultivating an exceptional student experience as the senior program coordinator for the First-Generation and Transfer Student Center.
"We want to empower them with knowledge about the opportunities out there, whether it's about scholarships, leadership or work study opportunities," Cruz said. "UTSA invests in its first-generation students. We want to see them persist, graduate and go on to successful careers. We remind them they can do it."
A second First-Gen Fair takes place today from 4 p.m. to 6 p.m. at the Bill Miller Plaza on the UTSA Downtown Campus.
Other UTSA First-Gen events:
First-Gen Poetry Slam
Thursday, 8 p.m. to 10 p.m., Student Union Fountain Courtyard, Main Campus

Albuquerque Poet Laureate Jessica Helen Lopez will lead a night of slam poetry just for first-gen students, faculty and staff.

First-Gen Institute
Friday, 9 a.m. to 3 p.m., Student Union Denman Room (SU 2.01.28), Main Campus

The First-Gen Institute is a free, one-day institute for UTSA faculty and staff, featuring presentations by David Laude from UT Austin and La'Tonya Rease Miles from UCLA.
First-Gen Familia Day/Dia de la Familia
Saturday, 12 p.m. to 4 p.m., Main Building (MB 0.104/0.106), Main Campus

First-gen students are invited to bring their families to campus for an afternoon geared specially for parents and relatives of first-gen students.
The UTSA community is encouraged to use the hashtags #FirstGenUTSA, #FirstGenPride, #FirstGenOrgullo, and #FirstGenRunners during the First-Gen Fest.