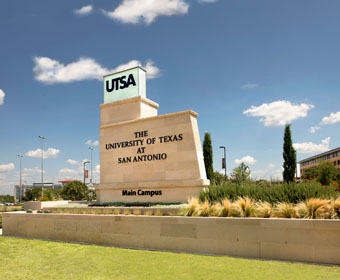 (May 16, 2018) -- Texas state lawmakers are turning to UTSA for its expertise in cybersecurity. The newly created Texas House Select Committee on Cybersecurity is holding a public hearing at UTSA today at 1 p.m. in the Student Union Retama Auditorium (SU 2.02.02) on the UTSA Main Campus. 
In House Bill 8, the Texas Cybersecurity Act, Speaker of the Texas House Joe Straus directed the committee to determine the state of cybersecurity at the local, state and federal levels including risks, incidents, preventative measures and advancements in detection. The committee has also been tasked with learning about cybersecurity education, curriculum, training, workforce and outreach to increase interest in technology career fields.
At today's hearing, the committee will receive valuable information from some of the greatest experts in the industry about how Texas cities can best protect themselves from data breaches and security threats.
Gregory B. White, UTSA professor of computer science and the director of the UTSA Center for Infrastructure Assurance and Security, will provide testimony on UTSA's cybersecurity efforts. Other experts giving testimony include:
Todd Kimbriel, deputy executive director, Texas Department of Information Resources
Brigadier General Greg Chaney, director of the Joint Staff, Texas Military Department
Colonel Teresa Cogswell, J6 chief information officer, Texas Military Department
Lieutenant Colonel Kristy Leasman, commander of the 273rd Cyber Operations Squadron, Texas Military Department
Jim Perschbach, interim CEO, Port San Antonio
Will Garrett, vice president of cybersecurity, San Antonio Chamber of Commerce
Sid Hudson, chief information officer, City of McKinney, and president of the Texas Association of Governmental Information Technology Managers
Gregg Cannon, director of IT, Grimes County
David Abarca, professor of computer science, engineering and advanced technology, Del Mar College
Joe Sanchez, executive director, CyberTexas Foundation
Sarah Matz, director of State Government Affairs, Southern Region, Computing Technology Industry Association
Chris Humphreys, The Anfield Group, Texas Cybersecurity Council
Bob Butler, AECOM Management Services, Texas Cybersecurity Council
State Representative Ina Minjarez (District 124) serves on the committee and advocated for UTSA to host the hearing.
UTSA is home to the nation's top cybersecurity program, an interdisciplinary approach that spans business, science, engineering, and liberal and fine arts. Four centers and institutes advance the university's work, which focuses on solving global security challenges in today's increasingly technological world.